He kept his composure, and dealt with this professionally!! During Maroon 5's concert in Anaheim, California Monday night, lead singer Adam Levine was in the midst of a song, when a fan rushed onstage and grabbed him. You can check out the footage below, as Adam attempts to calm the young lady down before security escorts her off the stage. Afterwards, Adam tells the crowd:
"That was f*ckin' weird, right?"
He also revealed that the girl had cut him behind his ear with her fingernail.
Check out the footage below: Let's be real though: Who HASN'T wanted to get their hands all over Adam Levine? Have you SEEN the man? What? Here. Now tell me you wouldn't do what this girl did. Maybe not at the risk of being removed from a concert......but still.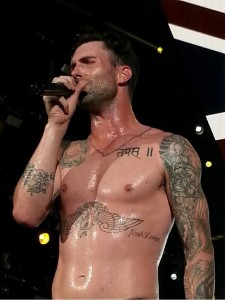 Pinterest
You're all welcome. Back to business. Thankfully Adam appeared to be okay after the altercation and he laughed it off.