Yes, you read that right:
ADAM. LEVINE. BARE. ASS.
In the just released music video for Maroon 5's single 'This Summer's Gonna Hurt Like A Motherfu*ker", front man Adam Levine bares his ass for all the world to see.
Even for a few glorious seconds.....
Thank GAWD for screenshots!!
The video appears to be filmed in one take, as it was done while the band is in London on tour. The guys are filmed while backstage, seemingly the night of a show as it follows them onstage. You see Adam exit the shower where we get that VERY great shot!
Check out the video below:
Did you all pause it? 
Repeatedly?
I know it wasn't just me!!
Check out a full, glorious shot below!
Did you all just scroll until you found the picture? Or did you read what I wrote? 
You scrolled. 
And you're forgiven.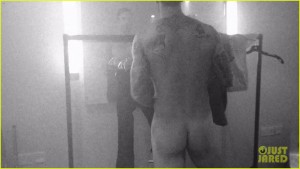 JustJared