A&E has officially cancelled the documentary series focusing on KKK members due to ethical concerns.
The concerns weren't on the controversial topic of the documentary but rather the production behind the series. Through a third party, A&E learned that the participants were paid cash to gain access into their lives, which violates the TV network's policy as well as commitments the network made to anti-hate groups before filming began.
In a network statement, A&E officially said that they have decided not to air the project.
"While we stand behind the intent of the series and the seriousness of the content, these payments are a direct violation of A&E's policies and practices for a documentary," the network stated. "Escaping the KKK was intended to serve as a close look at anti-hate extractors focused on helping people leave the Ku Klux Klan."
The controversial 8 hour documentary series was called Escaping The KKK. The series was supposed to follow several family members who work with these 'extractors' to help people leave the Klan.
The project was initially announced as Generation KKK earlier in the week, but, due to public concern, that it would normalize the hate group, the name was changed.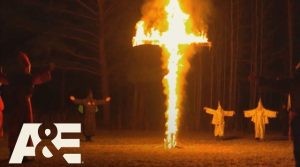 thecomeback.com
When the network released the trailer for the upcoming series, they explained in a statement that the network changed the name so that "no one can mistake its intent and that the title alone does not serve to normalize the Klan."
As part of a public service campaign with a civil rights organizations, A&E had also planned to air content from civil rights leaders between the segments, including a town hall type show that would focus on ending hate in the country.
"Our goal with this series has always been to expose and combat racism and hatred in all its forms," A&E further explained. "Just because this particular show goes away, the issues of hate in America do not. We will still seek to fight hate in America through on-air programming, including town halls and documentary programs produced in partnership with civil rights organizations as well as continue to work with the civil rights community to facilitate a deeper dialogue on ending hate through comprehensive educational and outreach campaigns."