This week's season premiere of Marvel's Agent Carter was a double-dose of vintage goodness, so we're back with more outfits for part two, A View In The Dark. In part one, we recreated Peggy's casual travel outfit with some navy blue sailor trousers, a blue button down top, some oxford-inspired shoes and red cats eye sunglasses. We also threw together a gorgeous red outfit for a day at the races with some two-tone shoes that looked like they came straight from Agent Carter's wardrobe trailer.
In this edition, we're putting together Peggy's daytime work outfit and something for an evening out of investigation and flirting. Peggy arrives at the office wearing a beautiful blue-green button down blouse, a high waisted navy skirt and a classic 40's t-strap pump. Agent Carter is ready for anything in a cool, airy outfit that is professional, feminine and flexible enough to let her kick a little butt should the need arise.
Our version of Peggy's basic work attire was fairly simple to assemble. My only complaint with off-the-rack clothing is how boring it can sometimes be on its own. But when you're taking new clothes back in time and forcing them to be classic, that's where the fun happens!
For this outfit, we have a high waisted navy, a-line flared skirt for only $24.00 available through Amazon. The blouse is a very simple, short sleeved button down in "royal" and it costs up to $25.00 (depending on your size) and is also available from Amazon. The shoes are a classic t strap pump in basic black and are only available online (not in stores) from Target. On the upside, the shoes are priced at a very reasonable $35.00 and are available in five different colors. I decided to include a hair clip because in this episode, Peggy's hair is swept up on one side in a classic vintage style. And although we never really get a good look at what type of clip she's wearing, I decided to find something that might suit her taste. The antiqued brass clips below seemed to fit the outfit nicely and reflected Peggy's simple, understated fashion sense. You can purchase a set of 4 clips through Amazon for less than $3.00. 
Our next outfit is Peggy's purple cocktail dress that she wore when she met up with the good Doctor Wilkes at the swanky club. Chief Sousa advised her to "get dolled up" and, with the help of Mrs. Jarvis, she did just that! Her dress is a purple wiggle dress with cut-out detailing at the neck and sleeves. The skirt flairs out a little into that a-line mermaid tail Peggy wears so well. Unfortunately for us, I'm fairly certain that dress is a one-of-a-kind, made specifically for Agent Carter or a genuine vintage piece from the 40's. So, the biggest challenge with this look was finding a dress similar enough to capture the feel of Peggy Carter while keeping the cost down for us regular schmoes.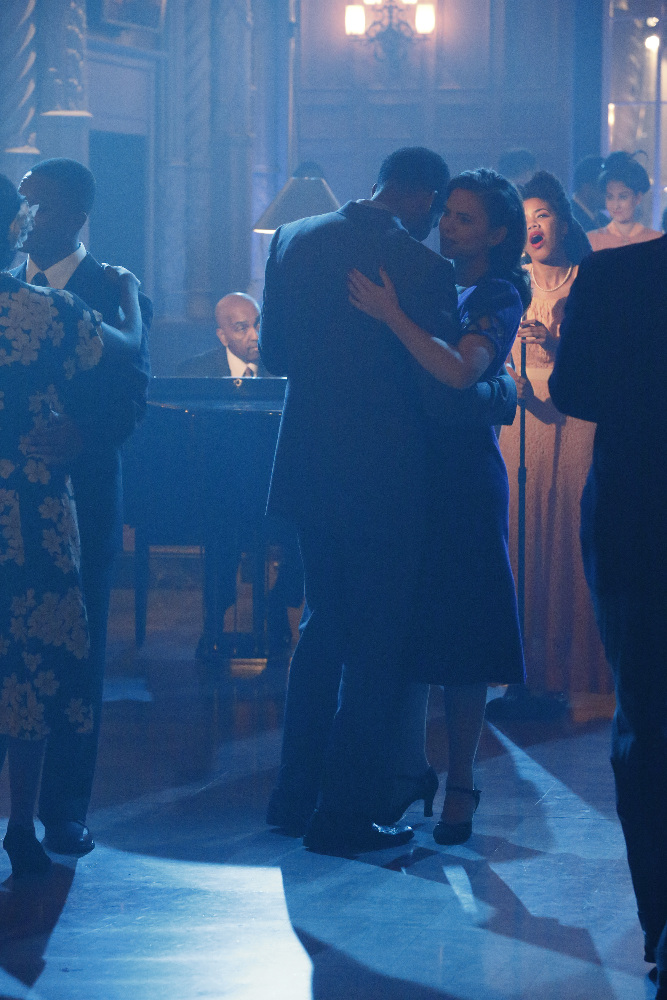 ABC/Kelsey McNeal
We'll call this outfit a tribute because purple, 40's inspired party dresses are surprisingly hard to find! This dress features the all-important a-line skirt and a really nice wrap effect on the bodice. The shade of purple is very close to what Peggy wears on the show and it has a very vintage sweetheart neckline. You can get the dress on Amazon for $37.00. The shoes are a high heel Mary Janes with a black matte finish. You can find them at Target (online only) and they come in six different colors and cost $35.00 with free shipping. For accessories, I chose simple, but stylish, cubic zirconia Victorian inspired earrings with a delicate flower pattern. Peggy seems to be wearing studs in the show which are important because getting into a  fight with dangly earrings could spell trouble. I found these particular earrings at Eve's Addiction and they cost $27.00. We catch a few, brief glimpses of a sparkly hair clip keeping Peggy's hair swept up on one side, so I chose a vintage crystal flower pattern clip from Amazon for $20.00.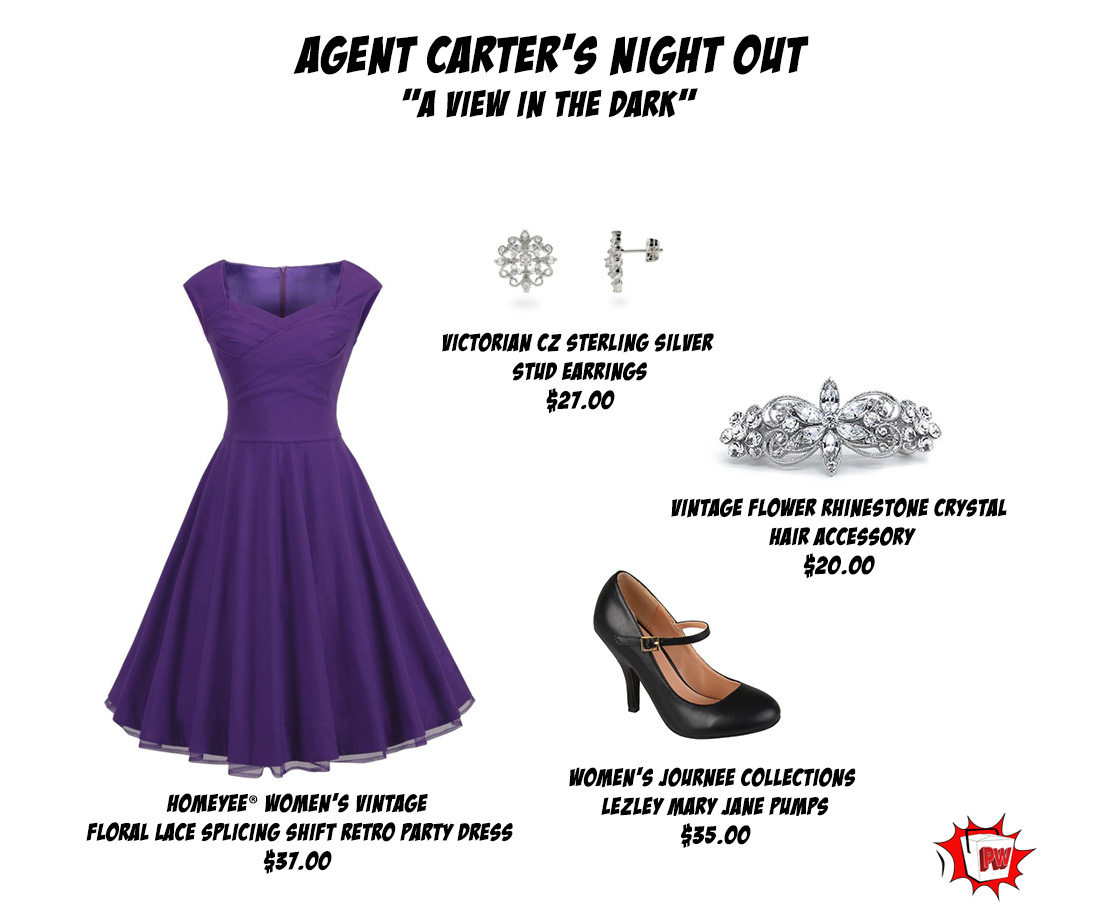 PopWrapped/Michelle Dawson
We'll see you back here next week for a breakdown of Agent Carter's wardrobe in Better Angels. Happy shopping!