Welcome back for another edition of Agent Carter's Closet where I put together outfits based on the costumes in each episode of Marvel's Agent Carter. All outfits feature clothing available off-the-rack, in a variety of sizes and at a reasonable price. Not all of us are lucky enough to be able to sew, but that shouldn't stop us from infusing our wardrobes with some vintage flair and everyday cosplay!
This week's two-hour presentation of Marvel's Agent Carter delivered action, drama and a truly fantastic musical number (with ANGIE)! I assembled an outfit made for a lunchtime brawl and Whitney Frost's beautiful purple dress and fuchsia coat combo. Whitney Frost may be batcrap crazy, but the woman has style! And if you're interested in replicating Peggy's outfit from the musical number, check out my previous article for the season premiere, The Lady In The Lake!
And remember all you Agent Carter fashionistas, if you want to be included in this year's fan tribute, the deadline for submissions is this Sunday, February 28th! Read all about it here!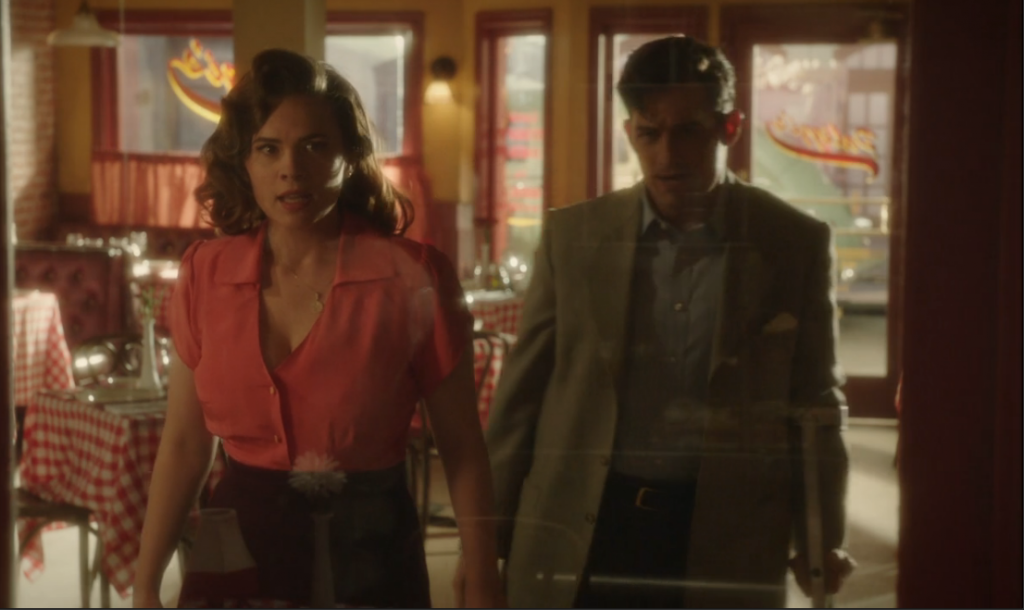 ABC
Kicking things off today is the burgundy skirt and blouse set Peggy wore to the Italian restaurant. The skirt is a simple, high waisted a-line skirt (perfect for kicking someone in the face) and the blouse is a dark blush, classic 1940's era blouse with gorgeous split sleeves. Peggy is also wearing a pair of t-strap pumps (glimpsed as they walk in the door) and her standard pearl studded earrings.
For our version, I found the Bugle Joy skirt in scarlet at ModCloth for $55. The skirt is available in several different colors and sizes ranging from extra small to 3X. Also from ModCloth is the Uptown Sound purse and features a removable strap and costs $55. The blouse is made by Harriton and is available from Amazon for up to $30 depending on your size. The shoes are a classic t-strap pump in burgundy with some adorable stitching for contrast and they are available at Unique Vintage for $78. The earrings are a simple pearl and mother-of-pearl stud for $19 from Amazon.
Whitney goes in search of more zero matter only to have poor Dr. Wilkes go into the rift and soak it all up for himself. For the trip, she dons a stunning purple swing dress and a fuchsia wool coat with purple trim. She completes the look with a floral head scarf and leather gloves. 
For our version, I went crazy at Amazon just to see what I could pick up and I didn't do too bad! What I like about Amazon is the easy search engine and having marketplaces from all of the world at my fingertips. And with Amazon Prime, I can get some sweet shipping deals.
The dress I found is a vintage half-sleeve swing dress in purple for $36. And the coat is a classic trench in a vibrant fuchsia made of wool. At $109, the coat is a little more expensive than I would like but the color was pretty spot-on for what I needed and not very common it seems. The chiffon headscarf is a peony pattern print in violet and cream and will only cost you $9. The pearl necklace has a pretty little clasp and costs $22 while the earrings are pearls with sterling silver at $23.  The white leather gloves are by Lundorf in and will cost $57. And finally, the shoes are the Melanie sandal by Bettie Page for $80 (depending on your size).
Well, that's it for this week! Be sure to pop in next week for outfits from the season finale and on Tuesday, read the inspiring stories from Agent Carter fans just like you!
Special note: In previous articles, I recommended the high waisted Full Moon and Party On trousers from Banned. I have since noticed, the trousers have been removed from their official website. I'm not sure if this is due to low stock or other reasons. But you can still find  a hefty stock of the same trousers at Unique Vintage. Be prepared to pay roughly $10 more for the trousers at Unique Vintage but I'll let you know as soon as they are available again directly from Banned!