Image courtesy TNT
Today at New York Comic Con, Jeff Hephner and Blake Herron sat down with PopWrapped to talk about TNT's upcoming drama, Agent X.
When asked for a general synopsis of the show, Herron, the Executive Producer, replied:
You think the Vice President doesn't do anything, right? It turns out there's a secret section of the constitution that says she's in charge of her own agent in times of crises... she's responsible for fixing it. That's Agent X. [The storyline] is deep in mythology. Little National Treasure, as series progresses Chris Nolan batman world. It's great to evolve shows.
To persuade viewers to watch, Herron quoted:
American James Bond movie week every Sunday at 9pm. What do I want to watch on Sunday night? Wicked awesome James Bond spy movie.
Eager to jump into storytelling, Herron explained his style of writing:
There's a serialized quality. Old TV they wanted the same cookie cutter thing every week. What we do is we do things you'd normally see in the third year in the middle of the episode. One little teaser: in the middle of the whole series, we're gonna f*ckin shake things up. We start really quick! If you don't send me a nasty email by the end of the season, I have failed.
Herron continues:
We interweave [the history]. Things come out of the woodwork. We go all over the world- Mayan Ruins, Paris, occasionally we'll be in Washington D.C. When you're in Washington D.C., something really bad's gonna happen... We put in tons of little things for people to pick up. Our title sequence has subliminal imagery in it. There is a prop that appears in the second episode that is in every episode we have. There are a lot of little things like that.
Hephner talked about his role preparations, including who he'd ask for advice.
I'd love to ask Abraham Lincoln, 'Hey Abe. Not that TV's ever been invented. I mean you're barely at the point of Kodak making film. What do you think I should do here? How should I blow this shit up?' I think Abe would have some great ideas. I hear he's quite the jokester.

I'm lucky. My neighbor is a DEA agent and we spent a couple of months in my basement shooting so it looks like I know what I'm doing.

It's hard to say something incredibly cheesy that you would never say and look tough doing it. If anybody in the world said, 'I'll be back' you'd go, 'look at that asshole trying to say that. Shut up, tough guy.' When someone like Arnold says it you buy it!
Hephner's hand movements got progressively bigger as he gushed about stunts.
I go out, I beat up people I have no business beating up. I get to do shit that nobody gets to do. I get to drive cars nobody gets to drive. It's one of those dream come true moments... There's this fight in this bookshop. This guy reaches through the books, grabs me by the neck, and pulls me through the bookcase. I screwed up two shots because I was giggling... It's ridiculous! I knock over a stilt walker and start hitting people with stilts. It's hilarious. I knock over a clown, rip his stilts off, and start hitting everybody... The coolest fight will be on the third week. It's a little mini Western...The pilot episode, I throw a guy off a roof 22 stories. I'm only held by a cable. There are a couple moments I can look at my face and I know... I am scared!
I asked both entertainers who Agent X is most like. Herron detailed:
I think Agent X is, if we splice their DNA together, it would be Batman, Captain America, and James Bond. And obviously Jason Bourne. Hephner decided, I'm gonna steal this from Blake. Blake says he's more like a Batman. He has to use a lot of tools. There has to be a cover like Bruce Wayne has a double life. [I held my finger to my lips to shush Batman's identity.] Wait, nobody knows that? F*ck! [laughs] With the Agent X program, you have to get rid of your life. You have to shed your past identity.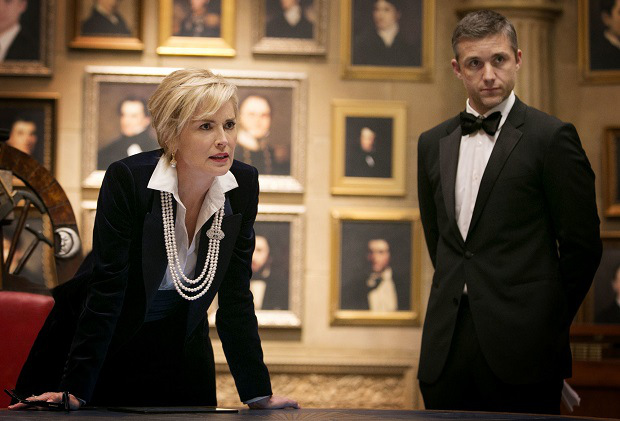 TVLine
Although Herron wrote The Bourne Identity, this show will have its own feeling and experience. Hephner explains:
There's a bleakness to Bourne. There's not to this. This is much more optimistic, it's lighter, it's more fun. This is more of an '80s style action. Bourne is more intense and dark. These actors [make the show unique]. We attach ourselves to doing what people like. It's more of a comfort-food kind of show. Our show is a show I can watch over and over again. It has a comfortable way of storytelling.
Herron promises:
That's our covenant to the audience. At 9pm Sunday, no matter how awful your day was, you can turn this show on and we're gonna take care of you for an hour.
Jeff Hephner summarized it best:
Agent X. TNT. November 8th. 9 o'clock. Two hour premiere. Sharon Stone. Mic drop.