Swiss musician Ajay Mathur always has a message to convey in his music.  Whether he is singing of failed relationships, calling for a change in society, or losing himself in the monotony of working from 9 to 3 (or 5) the musician makes sure to get a point across.  This is most definitely the case on his most recent release 9 to 3, on which no topic goes unexplored!
Mathur kicks 9 to 3 off with the classic rock anthem "Sitting By Your Cradle."  On the track the rocker sings about losing yourself in the monotony of life while the life is passing you by.  The track exudes a sense of rebellion as it points out how you can lose yourself in responsibility.
Mathur spends some time on the album exploring a failed relationship or two.  "Nothing Really Matters" strips things back and takes on a more barbed rock edge as Mathur sings about a poisonous relationship.  "You filled the cup / I paid the bills / my love for you was never still" the musician growls before bidding his lover farewell in an effort to save himself.  The track sizzles with power and passion, especially as Mathur struggles to adjust to his new life without the toxicity.
"Tell Me Why" is one of Mathur's most intimate, and he performs the sensual and 90's inspired slow burner exceptionally.  You can picture the candles burning low as Mathur sings about a failed relationship, asking why he he still loves his partner.  The loneliness and passion on the track exude a true sense of world weariness while paying tribute to the beauty that once was.
Another theme that Ajay Mathur explores on 9 to 3 exudes a call for social change and betterment.  "My World (SOS to the Universe)" is one example. Armed with an arena rock production, the musician is joined by a young choir as he sends out a warning message to the world.  The addition of a spoken portion adds a sense of aural dissonance to the track, and it is such a wonderful example of the flood of information we affront ourselves with regularly.
A call for change continues as 9 to 3 moves into "View From The Top."  A fun rock production and a clever sexual innuendo in the title quickly take on a new meaning as Mathur calls for some restructuring to society.   "All Up To Vanity" claims that fashion trends change faster than we change our underwear, commenting on our obsession with vanity instead of finding joy in simpler things.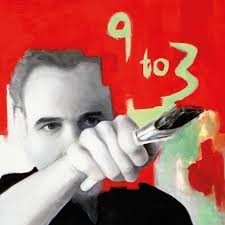 Courtesy ventsmagazine.com
While Ajay Mathur's distinct sound on 9 to 3 rings true, there are a few tracks that fail to come together as nicely.  Blending a jazz production with tropical influences on "Latin Lover" is one of those situations that fails to really jive with Mathur's classic Americana aesthetic.  It's technically pleasant on the ears but feels out of place in the midst of the other tracks.  "Surfer Girl Cyber Monday Mix" is another that falls a little flat on the delivery.  Mathur's voice fails to make a connection to the surfer rock production, though the connection between surfing the waves and the world wide web is admittedly successful.
Conversely tracks like "Oh Angel" blends some international intrigue to a significantly better effect, as a sitar adds an otherworldly aura to the emotional ballad.  "I Song" is another more successful effort.  An ethereal introduction gives way to a driving production as the musician sings about finding himself and resolutely holding on to his strength.
9 to 3 is a strong, if slightly inconsistent, effort from Ajay Mathur.  It is easy to lose yourself in the passion of Mathur's music, but the album's layout is a little jarring in the middle.  Throughout Mathur's voice exudes power and passion, promising for a solid listen regardless of genre or message.  From a pop perspective some of the tracks could benefit from a little additional polishing and production; however, as a classic Americana release Ajay Mathur's 9 to 3 resonates with raw emotion and power.  Not a bad effort!
Keep an eye out for future releases from Ajay Mathur on his official website or on Facebook, Bandcamp, or Twitter!