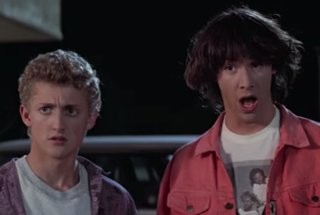 Most triumphant! Alex Winter, who plays ultimate dude Bill S. Preston Esq., has revealed most
excellent
details about Bill and Ted 3. Along with his co-star Keanu Reeves, Winter is coming back to play his title role in the movie, and says that Bill and Ted "will be 40-something" and that the film is "all about Bill and Ted grown up, or not grown up." He adds that "It's really sweet and really f**king funny." Winter continued to say 
"it's a Bill & Ted movie, that's what it is. It's for the fans of Bill & Ted. It fits very neatly in the [series]. It's not going to feel like a reboot. The conceit is really funny: What if you're middle-aged, haven't really grown up and you're supposed to have saved the world and maybe, just maybe, you kinda haven't?"
When asked about the plot, "[It's] answering the question: 'What happened to these guys?' They're supposed to have done all this stuff, they weren't the brightest bulbs on the tree, what happened 20 years later? To answer that question in a comedic way felt rich with possibility." But fans, don't expect anything too soon, since Winter said "i
t just takes a long time to put a movie together. Now we're having to build this thing in public, which is fine. I just feel bad [the fans] have to get dragged through this long, boring, protracted process."
Winter has been working with Reeves and with the original writers Chris Matheson and Ed Solomon, whom he has been very close with over the years. 
"It was really just the four of us and we were really very measured about it. It took time to construct the idea, it took Chris and Ed time to build the first draft. Then we put a producer together and got a director [
Galaxy Quest
 helmer Dean Parisot]. We've been working on drafts for the last couple of years. The script's been finished for a while, but comedy is so specific. We're in that world where producers are on, financiers are on and we're just working and reworking the script."
It's been 23 years since the release of a Bill and Ted movie, with the 1991 release of 
Bill and Ted's Bogus Journey
. Here's hoping to a most bodacious sequel!
Keep Up With PopWrapped On The Web!
Twitter  SoundCloud Facebook Instagram Tumblr Pinterest YouTube