Jenna Boures
Staff Writer @JBoures Forget Busch Gardens, Universal Studios, and Disney, tourists will soon be flocking to Orlando, Florida to ride the world's tallest roller coaster: the Polercoaster. Michael Kitchen, president of U.S. Thrill Rides, explained that the 50-story Polarcoaster is unlike anything an average thrill junkie has ever experienced. "It will be 525 feet tall, and it's going to have two levels on top with nearly 20,000 square feet of restaurant, retail bar and banquet space available with 360-degree views of Florida," he said. While the coaster's design has been revealed, it is not certain where it will be built. One thing's for sure –you won't see it in a theme park.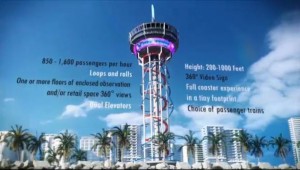 Still courtesy of YouTube.com

WESH 2 News recently reported developments on the location of the Polercoaster, and "obtained a copy of the visitor log that shows Orange County Mayor Teresa Jacobs or her staff met Thursday with Kitchen, Jeff Forrest, president of Winter Park Construction, Joshua Wallack, of Wallack Holdings LLC, and Alan Helman, founder of global architectural firm HHCP." Sources have told WESH 2 News that Wallack, who is currently building a massive Mango's Tropical Café on International Drive, is helming the Polercoaster project. Wallack owns various properties where the coater could be built, including a large parking lot near the café or a Walgreen's property. Another height-defying attraction without a theme park is the nearby Orlando Eye. The futuristic observation wheel is currently under construction on a nearby property. WESH 2 News reported that the exact location of the Polarcoaster will likely be revealed this week. Keep Up With PopWrapped On The Web!