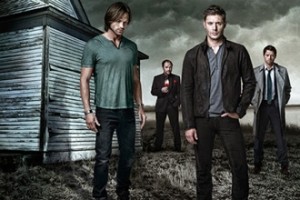 Carleen Slon
Staff Writer
@Carleen1991
The Winchester brothers don't seem to be hanging up their hunting gear anytime soon. Stars Jensen Ackles and Jared Padalecki (Dean and Sam Winchester) along with executive producer Jeremy Carver talked about all things
Supernatural
on Friday at the Television Critics Association (TCA for short) Summer Press Tour. Carver told
TVLine,
There's so much story left to tell," giving props to the cast and crew. "It remains the hardest-working bunch I've ever had the pleasure of working with. There's no quit in anybody." Padalecki who stated that he will be apart of the show for as long as the show is up to par, "I truly do deeply care about this show and about Sam Winchester," Padalecki said. "I don't want him to be broken down, beaten down into something I don't respect. And I respect this show. … We know the show enough and our characters, if there's an end coming, we'll all see it and won't have to push it. When it's time to hang up the Sam Winchester hat, I'll welcome that chapter." Jensen also added,  "I think we're all on the same page. We still get excited about it. That hasn't tarnished in 10 years." In fact, after the reading the Season 9 cliffhanger, he "got all giddy about it. As long as there's that fulfillment, that excitement, then we'll keep going." Not to give to much away for the upcoming season Carver teased, "There will be some new characters — demons, angels, ghosts, werewolves — and of course, a side of Dean we've never seen," As far as the end of the show is concerned, "As for how
Supernatural
might one day wrap," Carver admitted it's tricky because "I know that [creator] Eric Kripke always had an ending in mind." "I have an image…but I always want to keep room for happy accidents as well," he added. "The show is continuing on beyond any of our wildest dreams, so I don't think I want to limit ourselves. … All the writers, we have images in our heads, but our minds are wide open."
Supernatural
returns October 7th at 9pm on the CW
Keep Up With PopWrapped On The Web!