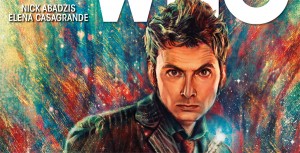 Titan Comics
Sash M-Waite
Staff Writer
@SashDoesDoodles
So it's not a new idea that the Doctor gets up to all sorts that we never see, with off-screen adventures referenced in the TV show and books, but
Titan comics are taking this a step further.
With Doctor number Twelve about to take control of the TARDIS, you can now read about Ten and Eleven's brand new adventures in comic book form. Wibbly wobbly, timey wimey… Writer Nick Abadzis (Hugo Tate), artist Elena Casagrande (Suicide Risk) and colorist Arianna Florean are working on
Doctor Who: The Tenth Doctor
, which is set after Ten has lost Donna Sniff. He finds himself in New York city before the Day of the Dead celebrations… sounds exciting. Al Ewing and Rob Williams have teamed up with Nikolai Dante artist Simon Fraser and colorist Gary Caldwell on
Doctor Who: The Eleventh Doctor
which is a one shot story but seems to be building up to more stories with the Doctor and the comic's protagonist.
Titan Comics
Both stories are Earthbound but hopefully in future issues we'll get to see them take on adventures that the BBC budget simply couldn't do justice to. If you can't wait until August 23 then I suggest picking up these comic debuts both will be published on July 23rd.
Keep Up With PopWrapped On The Web!