Talented young photographer Samantha Gardella received some unique recognition after sharing pictures she took sneaking around the set of Netflix's wildly popular hit series Orange is the New Black (OITNB). The series of photos has gone viral.
Word spread earlier this week after the fan shared pictures of her deviant antics on Tumblr. Popularity of the pictures spread all the way to the official @oitnb Twitter which gave their own form of punishment.
She is the first fan to receive a "shot,"  a disciplinary action used throughout the series to punish inmates. The Orange is the New Black Twitter and Tumblr page shared the image of one of these "shots" written out to "LLcoolade," Samantha's Tumblr handle. It accused her of being in violation of taking fantastic pictures and posting them online.
https://twitter.com/OITNB/status/616419991500382208
Orange is the New Black is filmed in Rockland County, New York in an abandoned children's psychiatric center. Utilizing this facility adds an element of realism to the set. However, without the lively bustle of a film crew you might never notice the facility as anything other than an abandoned building.  That is... until Samantha photographed the area.
The special thing about her pictures was the clever idea to utilize screen captures from the show and superimpose them into the scenery. The talented photographer is a 19-year-old film student who was simply looking to take the pictures to help build her portfolio for her college application. She lives a short distance away from the fictional Litchfield Prison and took the photos during two separate trips.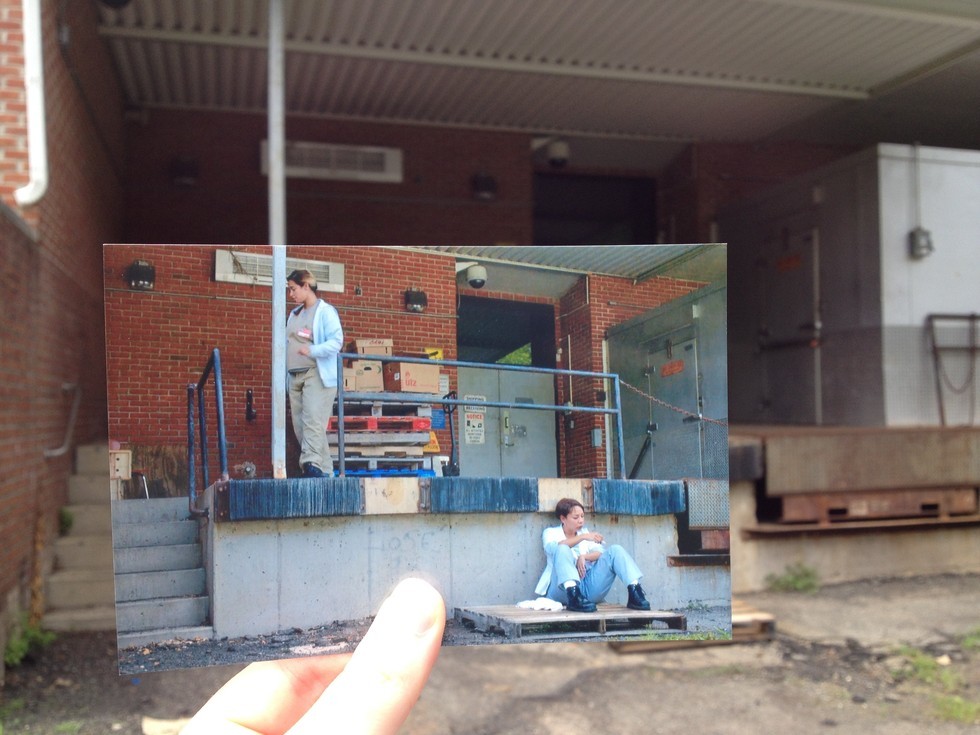 Courtesy of kitschmix.com
With over 110,000 re-posts (and growing) her original entry was bound to catch the attention of show officials, but we would have never guessed it would result in this amusing and good spirited reprimand.
We asked Samantha to give us a little background about herself and why she took these photos. She said,
My name is Samantha Gardella and I'm a 19-year-old film student living in Monroe, New York. Recently I found out that Orange Is The New Black film all of their outdoor prison scenes about 30 miles away from at the abandoned Rockland Children's Psychiatric Center in Rockland County, NY. So I decided this would be a great opportunity to go there and [add] some shots to my college portfolio; as I am trying to get into the Film Degree Program at Full Sail University in Winter Park, FL. After visiting the set on June 18th, I decided to go back the next week, except this time I brought pictures with me and found each location that matched up with each picture I had.
Since posting the pictures on Tumblr, they've accumulated over 110,000 re-posts in less than a week.
[gallery type="slideshow" ids="91665,91666,91667,91668,91669,91670,91671"]