Tarra Matthews
Senior Content Manager
@tlcm_16
In today's society, the fight for gay/equal rights is constantly taking center stage in the media. It seems that state legislatures are finally getting the picture, granting the right to marry to their citizens. Unfortunately, as the voices for equality grow louder, so do those speaking out against them. These issues have even started to make their way into many pop culture staples, including
Archie Comics
. The first gay character, Kevin Keller, made his debut in
Veronica 
issue 202 almost four years ago. This issue was so popular it was the only one in
Archie
's 73 year history that required a reprint. After his introduction, Keller became a regular in Riverdale, gracing the pages of 
Life With Archie
and garnering his own comic, 
Kevin Keller,
which won the GLAAD Media Award in 2013 for Outstanding Comic Book.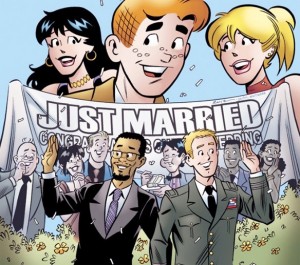 Since his introduction, Kevin Keller has had quite the story arc, including a marriage back in 2012 to a fellow army serviceman. "The world of Riverdale has to reflect contemporary culture and to show it is an accepting, diverse place," stated Dan Parent, the artist that created Keller. In the latest issue of
Life With Archie, 
out Wednesday, an event will take place that will rock Riverdale and change the world of its citizens forever. Titular character Archie Andrews will die, heroically taking a bullet for Kevin, thwarting an assassination attempt on the gay man's life. "He dies selflessly," said Jon Goldwater,
Archie Comics
publisher and co-CEO. "He dies in the manner that epitomizes not only the best of Riverdale but the best of all of us." The story arc follows Keller as a newly elected Senator who makes it his mission to combat guns and gun violence after his husband is shot during a robbery in progress. Those behind the
Archie Comics
aren't revealing who the would-be assassin is until fans read the comics in print, but the message behind the death is pretty powerful.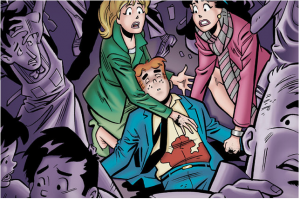 Courtesy of The Verge
Archie is not a superhero like all the rest of the comic book characters," Goldwater told the Associated Press. "If anything, I think his death is more impactful because of that. We hope by showing how something so violent can happen to Archie, that we can — in some way — learn from him.
The following issue of
Archie
will jump forward one year to see how the citizens of Riverdale have dealt with Archie's death and what they have learned. They will also honor the red-headed hero. Have you grown up with the
Archie Comics
? How does his impending death make you feel?
Keep Up With PopWrapped On The Web!