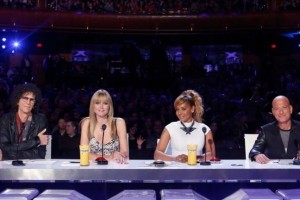 Courtesy of NBC
Jacob Elyachar Staff Writer @JacobElyachar
Last week, the country's favorite talent show returned to NBC! Returning judges Howard Stern, Heidi Klum, Howie Mandel and Mel B began their search for the next million-dollar act! A Golden Buzzer (created by Germany's version of
Got Talent
and increased by popularity due to
Britain's Got Talent)
was also introduced, which allowed a judge to send an act straight through the next round or save them from elimination. Already, Howard used his buzzer on the controversial slapstick duo,
Dustin's Dojo
! Did Heidi, Howie or Mel B use their one-time save? Read on to find out! Up first to face the judges was the Willis Clan. This 12-member ensemble was the modern day version of
The Partridge Family,
with ages ranging from three to 21-years-old. They transformed
The Sound of Music's
"My Favorite Things" from a boring show tune to into a folk rock anthem. While Mel B wanted more harmonies from the group, Howie compared them to the Osmonds and Heidi thought they were inspiring and entertaining. The Willis Clan received the first unanimous "Yes" of the evening. Throughout the evening, Howie was very hyper! He drove the ladies crazy forcing them to avoid the veteran judge until they sat down at the desk! Magicians David and Leeman hoped that the hyper judge would assist them with their act. The lifelong magic lovers took away the former
Deal or No Deal
host's ability to read. He failed to read "comedian," "germaphobe" and his own name. As the judges laughed at the development, Howard stated that they made Howie look like a jackass and Heidi wanted to be in their act during the next round. Backstage, every act was fighting their nerves. No one was more nervous than 15-year-old Julia Goodwin. This tenth grader wanted to be a successful singer-songwriter and after practicing with her father for years, she took the
AGT
stage by storm when she covered a jazzy version of Billy Joel's "New York State of Mind." She had such eloquence on stage and I loved her range. Julia earned the first standing ovation of the night! In their feedback, Mel B stated that she was a unique vocalist that had terrific control and Howard loved her sophistication. Go to 1:45 to hear a sample of Julia's "New York State of Mind." Tappers Sean and Luke have been dancing since they were three-years-old. The students impressively merged tap and Hip-hop together and their moves electrified the crowd. While Heidi thought they were very talented and Mel B added that they made "tap cool," Howard thought it was not enough for the
AGT
stage and voted "No." Howie sided with the ladies and gave the guys a second chance. The stunt teams were out in force this year! One of the frontrunners in this category was Springfield, Mo.'s Real Encounter. This is a quartet of ministers that traveled across the country entertaining audiences with their stunts. The group's death-defying stunts earned the second standing ovation of the evening and Howard declared their act: "the most fantastic and death-defying act" he has seen in all three seasons. You can check them out below; but beware, they're cringe-worthy! Unfortunately, the evening went off track as multiple magicians failed to impress the judges! It was 21-year-old Miguel Dakota from Longmont, Colorado to turn things around. The construction worker dropped out of college to support his family after his dad abandoned them. His real passion, music, shined through as he delivered a pitch-perfect acoustic cover of Alex Clare's "Too Close." His passion melted Heidi and Mel B stated that he had a sexy voice! 33-year-old Aerial Animation wanted to bring her imagination to life. She delivered a beautiful story by combining acrobatics with animation! Both Heidi and Howie praised her originality and uniqueness; Howard added that he loved her imagination. She received the third standing ovation of the night and a place in the next round. For the first time in
America's Got Talent
history, a same-sex dance couple performed for a chance to perform at Radio City Music Hall. Friends Jon and Andrew danced a Salsa routine that electrified the audience and the duo received the final standing ovation of the evening! Howard stated they were inspirational to watch and were a great addition to the season.
Next week, the auditions continue! Who will step up to the plate and earn a spot in the next round?
What do you guys think of the poster?
Keep Up With PopWrapped On The Web!