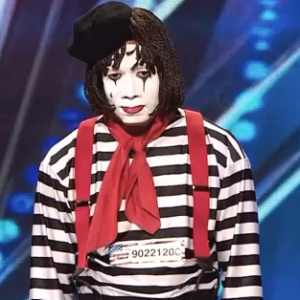 Courtesy of YouTube
Carleen Slon Staff Writer @Carleen1991
The
America
'
s Got Talent season premiere started off with a bang! Host Nick Cannon gave the judges quite the scare nearing the end of the first set of auditions.
The actor and comedian decided to prank judges Howard Stern, Heidi Klum, Mel B. and Howie Mandel. Cannon decided to dress up as a  mime and do an act for the judges. Unrecognizable to the judges or anyone in the audience, Cannon took to the stage as "Larry the mime". 
The prank included performing the 'trapped in a box' piece practiced by mimes everywhere, and it did not impress the judges one bit. Then after all four judges hit their X buttons, the audition was over for poor 
Larry
. After a few of the judges comments "Larry" became unhappy and started to riot! "Larry" stormed off the stage and scared the judges, making them think he was going to assault them. But after a couple of minutes Cannon finally took off part of his costume and the judges realized who he really was.
Check out the video below to see how everything really went down:
America's Got Talent airs on Tuesdays at 8PM on NBC.
Keep Up With PopWrapped On The Web!