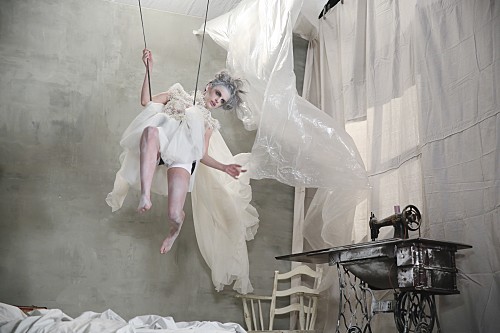 Courtesy of The CW
With Lacey winning the best picture last week, she had the option to bring a fellow model into the Tyra suite. Choosing Nyle was a great choice because he needed that pick-me-up after the let-downs he had to deal with. And hey, he's also one of the nicest people out of the contestants, so why not?
This boost most certainly helped improve his self-confidence, and that showed in the first part of the competition: creating an ad campaign for Simply Be, one of PR Kelly's clients, featuring season 10 winner, Whitney. Instead of keeping his trademark look, he decided to let it go and have fun. In addition, being paired up with Justin was a great choice. Not only are they good-looking, they have the same vibe.
Although their campaign won, Justin was feeling some jealously feels; Mikey and Mamé were smooching it up for their ad thanks to the suggestion of Kelly herself. While it's unknown if this was done on purpose to increase the drama between the couples, it worked it's magic on Justin, who apparently doesn't catch feelings too often. Ashley, on the other hand, wasn't too fazed by it. Thankfully, Justin and Mamé were able to pull through, proving that they're both strong competitors while being an adorable couple at the same time.
As for the others, they weren't doing so well, especially Courtney and Ava. Both are emotional train wrecks at this point, but for completely different reasons. Ava's fed up with the constant drama, and Courtney was invisible next to outgoing Devin.
Speaking of drama, that continues to explode between pageant beauties Hadassah and Mamé. After having an ugly showdown in the bathroom over the most stupid thing, Justin decided it was best to hold a house meeting where those two can talk it out. If only they did talk it out; it was more like they agreed that they can't stand each other. This meeting wasn't beneficial for Ava as well even though she had no problems with the others; she just simply couldn't adjust.
At the next part of the competition, the contestants were to participate in a possessed high-fashion shoot where they wore haunting blue contacts similar to Bello's and caked with tons of white powder. Nyle continued to keep up his momentum by taking risks, Justin had a tutoring session with Mamé, Hadassah continued to be a pain for photographer Yu Tsai, and once again, the two train wrecks continued on to their destination of well, being even more of a wreck; Ava's stress clearly showed throughout the shoot and Courtney was being Courtney as usual.
At the panel, it's no surprise that Nyle won the best photo; he's been taking the judges' advice seriously, and it's finally paid off. Despite being in the bottom two twice, Hadassah managed to have a stunning photo that landed her in fourth place, right after Mamé. Last but not least, it's easy to figure out who would be in the bottom two this week- Courtney and Ava. What was surprising, sadly, is that Ava went home instead of her.
Top 5 Best Shoots (overall):
5. Mikey
4. Lacey
3. Justin
2. Mamé
Nyle