We're not sure who Amy Poehler dressed as in the crowd of the Emmys audience -- some reports suggest Damien from Mean Girls (in which she appeared), but I think she looks like she's channeling a little Pennsatucky from Orange Is The New Black -- but her outfit and expressions were the perfect response to not winning the award for Outstanding Lead Actress In A Comedy Series last night.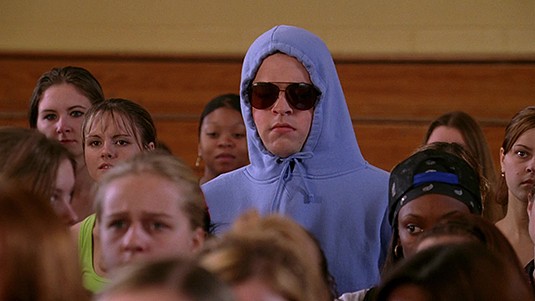 Courtesy of Cosmopolitan
Poehler lost out on the Emmy to Julia Louis-Dreyfus for the fourth year in a row, and when the camera turned back to see her reaction, she had donned a hoodie and shades. Poehler has been shut out for the award for six years despite her stellar performances as Leslie Knope on Parks.  As the series finale of the comedy aired earlier this year, the 2015 Emmys were the last opportunity for her to take home a statue for the role.
Courtesy of Netflix
Who do you think Poehler was meant to be? Damien, Pennsatucky, or someone else?