LOVE. THIS. WOMAN.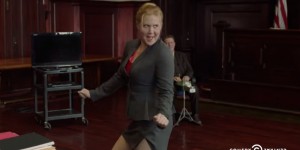 Huffington Post
The always hilarious Amy Schumer is gaining major attention right now for her scathing sketch on the rape allegations plaguing Bill Cosby from her show 'Inside Amy Schumer'.
Amy goes all in with the insults, as she throws in references to pudding pops, mocks Bill's dancing, references 'The Cosby Show' and Bill's character Dr. Huxtable all while playing Bill's defense attorney
Watch it below:
Amazing.
Not that Schumer hasn't been getting major attention. The comedian will be starring in TrainWreck, which she wrote at the urging of Judd Apatow, who is directing and producing. Also, rumor has it, she's signed on for another big screen movie due out in 2016. Her Comedy Central series "Inside Amy Schumer" is in it's third season. 
Give this woman every single damn award.