Conspiracy theorists are claiming that an ancient Greek sculpture from 100 B.C. is depicting what appears to be a modern day laptop, or at the very least a handheld computing device of some form held by a servant while a woman appears to be touching it while reclining in a chair.
The sculpture first came to attention in a 2014 Youtube video posted by StillSpeakingOut whose page is full of similar conspiracy theorists videos. The narrator of the said clip states "I am not saying that this is depicting an ancient laptop computer," he says in description of the Greek sculpture and then adds "But when I look at the sculpture I can't help but think about the Oracle of Delphi, which was supposed to allow the priests to connect with the gods to retrieve advanced information and various aspects."
The statue, which is on display at the J Paul Getty museum in Malibu, California, has been given the name 'Grave Naiskos of an Enthroned Woman with an Attendant'.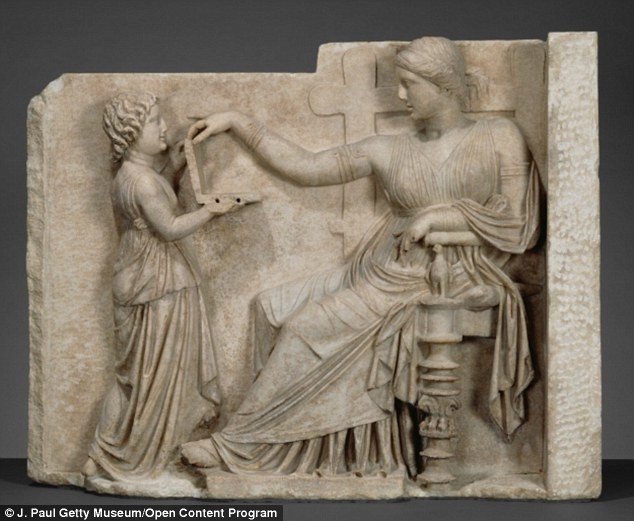 dailymail.co.uk
And near it is the historians description explaining what it is. The description writes, "Lounging in a cushion armchair, a woman reaches out to touch the lid of a shallow chest held by a servant girl on this funerary," which is in contrast to what StillSpeakingOut said on the video.
But the video disputes that it is nothing more than a shallow box, as the narrator states that "In another picture taken by a random tourist from a better angle we can see that the object is wide with a structure too narrow to be a jewel box."
They also counter the idea that it could be Pandora's box or a wax tablet saying that it "does not match the depictions of the mythical Pandora's Box." They also state the same for depictions of wax tablets.
Then they point out the presence of holes on the side of the "laptop," and says that these are depictions of cables and USB ports.
If the conspiracy theorists are correct, and that is a laptop or some sort of handheld device then the sculpture also depicts a cruel and lazy mistress. Why is there a need for a servant to hold the 'laptop'? I mean that is just cruel, making another human being hold it while you like Instagram pictures , or worse Netlfix and chill. Can't the woman in the sculpture just tell her servant to get a table?
What do you think of the sculpture? Are we looking at an ancient Greek laptop, on which people liked rudimentary Facebook posts? Weigh in on the technology/jewelry box debate below!