Time for a celebration space cowboys! The notoriously iconic anime series will finally get a remastered release on blu ray for the first time in North America. Cowboy Bebop was a 26 episode anime series released in 1998 (by the mastermind behind various series, Shinichirō Watanabe) that followed bounty hunter and ex-hitman Spike from the year 2071. Alongside Spike was his versatile crew of a former officer Jet, computer hacker genius Ed, the adorable Corgi named Ein, and the beautiful yet dangerous con artist Faye fresh out of cryosleep. The crew travel the galaxy on numerous quests for cash while dealing with the ramifications of their pasts (from family, mistakes, love, and more). A heavy theme throughout the series reminds viewers that our past cannot just be outrun, but that we need to face our issues head on as it helps shape who we are and who we can become.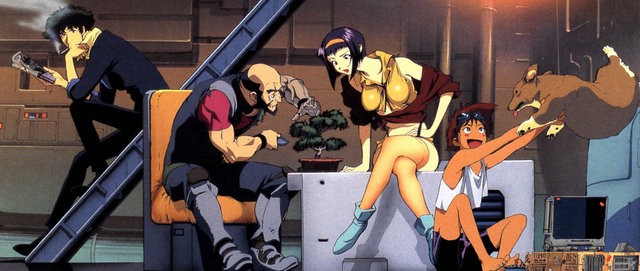 Courtesy of Crunchyroll.com
The series was met with overwhelmingly positive reviews, especially in the US even influencing films like Brick and Looper. With a series set in space, dealing with multiple planets, characters, and colors, a blu ray release is much deserved for the beloved 90's anime. Hopefully re-releasing Cowboy Bebop will introduce it to a new generation and can help any further chance of the rumored live action adaptation, or maybe even a sequel series? Something to think about Mr. Watanabe? Watch the newly remastered trailer for the blu ray release and step outside your comfort zone for a captivating story and cast of characters that will leave you in need of more thrilling space adventures! Do yourself a favor and pre-order the series now, before its December 16th release date!
Keep Up With PopWrapped On The Web!
Twitter  SoundCloud Facebook Instagram Tumblr Pinterest YouTube