Yuri!!! On Ice has quickly become one of the most popular anime of the winter season. The currently-airing show centers on Yuri Katsuki, a 23 year old ice skater from Japan, who lost his confidence after a disastrous performance at a major figure skating competition. After a video of him mimicking a famous routine of his idol, Viktor Nikiforov, goes viral, he finds himself face-to-face with Viktor himself when he appears at his home out of the blue. To everyone's surprise, Viktor offers to be Yuri's coach for the upcoming Grand Prix Final competition. The series focuses on Yuri's steps towards improving, rediscovering his passion, and his developing relationship with Viktor.
For those familiar with the world of competitive figure skating, the series offers insight into the actual sport. The main competition that Yuri focuses on, the Grand Prix Final, is a real-life competition and one of the most important in the sport. Some subtle details in the show are references to pro skaters, such as Viktor's dog-shaped tissue box being a nod to the Winnie the Pooh-shaped tissue box carried by world champion Yuzuru Hanyu as a good luck charm. The consultant and choreographer for the series, Kenji Miyamoto, adds an insider's view to the world of figure skating. With his background as a retired ice dancer and as a current coach, he is tasked with making the skating performances as authentic as possible.
The show's attention to detail and accurate rendering of the stylistic sport has garnered a great deal of praise, and several world-renowned skaters are known to be following the series. The inspiration for Viktor's character, four-time Olympic medalist, Evgeni Plushenko, expressed excitement over the show when it debuted. Ashley Wagner, 2016 World silver medalist and three-time Grand Prix Final medalist, was delighted to see one of the characters, Mila Babicheva, dressed in an outfit she wore for a practice session in the 2015 Grand Prix Final.
I've made my anime debut?? #yurionice pic.twitter.com/MmaGjPmOCu

— Ashley Wagner (@AshWagner2010) November 1, 2016
2016 World champion Evgenia Medvedeva tweets about the show every week and is a huge fan of Viktor and Yuri's romantic relationship. Some fans have even drawn fan-art of Medvedeva meeting Viktor and Yuri.
Viktor and Yuri's growing closeness is one of the major highlights of the show. In the seventh episode, Viktor and Yuri's relationship reached a surprising high when following Yuri's admission into the Grand Prix Finals, Viktor surprised him with a kiss.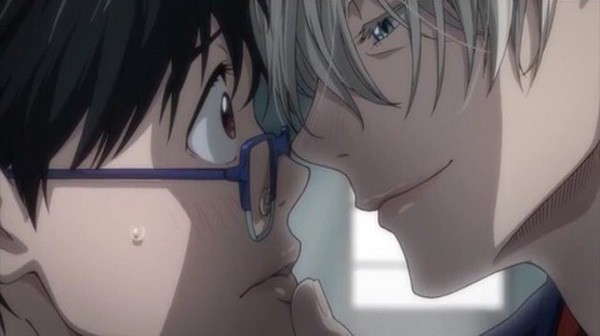 Otaku USA
For a show not marketed as specifically featuring LGBT couples, having a kiss on-screen is huge, especially for a Japanese show. Following the episode's release, the tag 'ユーリ7話', which means 'Yuri Episode 7', was one of the top trending Twitter topics and amassed at least 21.2k tweets. Many sports-themed anime can be read with a lot of subtext, but rarely is it confirmed in canon. The event has largely been positively received and sent fans into a frenzy of excitement.
The series has a lot going for it. The choreography is elegant, and the story is overall very kind. Even with competition driving them, most of the characters look up to each other and end up elevating each other's performances. There are still a few episodes left until the series is finished, but, so far, the show is shaping up to be a masterpiece.