Staff Writer
Never underestimate the Boy Scouts! NBC journalist Ann Curry learned this lesson when she broke her leg while hiking up a mountain, leaving her stranded with no way to get down. The scouts might be "only" teenagers, but that doesn't make them any less important!
Bryan Wendell shared the story in his recent Scouting Magazine article, revealing how Troop and Crew 368 from Berkeley Heights found a woman sitting on the ground during a training hike through Harriman State Park in New York.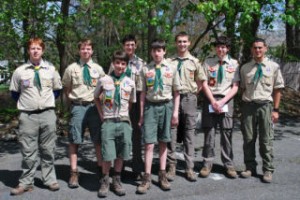 Courtesy of gawker.com
"We were hiking along, and we came to a trail intersection," Scouter Rick Jurgens explained, "and a lady was sitting on the ground with her one leg out. We didn't think anything of it, but one of the guys asked if everything is OK. She said, 'No, not really. I think I broke my ankle.'"
Even though Jurgens immediately recognised  the woman as the 57-year-old Emmy-winning journalist, the scouts didn't notice, nor did they care. Curry at first told the boys to keep going, as the rangers had already been called, but they refused. Instead, they sprang into action to do what they had been trained for.
All the first aid training they had gone through paid off, and in no time they had created a perfect splint!
"Just like in the pictures," Jurgens explained, having checked the handiwork himself with his own experience as a professional fire-fighter and EMT.
But with a splinted leg, she was still up a mountain, and simply carrying her down on the steep terrain was too dangerous.
"The guys on their own, with no direction from me, start running into the woods," Jurgens said. "And she didn't know what was going on, and I didn't know what was going on either."
Not much later, it turned out they had created a stretcher with some pieces of wood they found and were heading down the mountain, carrying Curry down, back to her husband and son who then took Jurgens' contact details.
Once Curry and her family had driven away and Jurgens explained to the scouts who they had just helped, they were all blown away, but that definitely wasn't the end of it! A few weeks later, each of the scouts received a personal letter from Curry in which she thanked them all once again.
"I feel enormously lucky you came along at just the right moment, and were so willing to help a stranger in need," she wrote. "You are a credit to the Boy Scouts and to your families, and I want you to know I am deeply grateful for your kindness and skill."
"No matter who that was, we would've done the same exact thing," Jurgens concluded. "The guys didn't know this was a special person at first and treated her with the most dignified respect. It was all on the guys."
What about the forest rangers who had been called in to help? Well, they arrived once Curry was already long gone, finding nothing but a group of cheerful scouts who would help a stranger in need whenever they got the chance!
Keep Up With PopWrapped On The Web!