Anne Rice promised fans a major announcement about Lestat's future, and she definitely delivered. The author announced on her Facebook page that she has regained theatrical rights to The Vampire Chronicles and is planning a TV series!
"The theatrical rights to the Vampire Chronicles are once again in my hands, free and clear! I could not be more excited about this! --- A television series of the highest quality is now my dream for Lestat, Louis, Armand, Marius and the entire tribe," Rice shared via Facebook. 
Rice had previously been working with Universal Studios and Imagine Entertainment on a movie series devoted to The Vampire Chronicles, but it didn't work out. This may be a blessing in disguise due to the breadth of material in the series. There are twelve full length novels in The Vampire Chronicles, plus two other vampire novels that don't focus on Lestat.
Two of the novels in The Vampire Chronicles were adapted into movies with varied success. Interview With The Vampire starred Tom Cruise as Lestat de Lioncourt and Brad Pitt as Louis de Pointe Du Lac. Queen of the Damned, based on the third novel, starred Stuart Townsend as Lestat and Aaliyah as the title character, Akasha.
Rice, along with her son Christopher Rice, are developing a script for the pilot and a detailed outline for the TV series. Both will serve as executive producers, but it's not clear if either will stay on as writers. Thankfully, the series will faithfully present "Lestat's story as it is told in the books, complete with the many situations that readers expect to see," which is something the movie adaptation of The Queen of the Damned movie failed to do.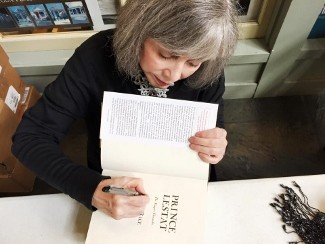 Facebook
The TV series will likely start with the second novel, The Vampire Lestat. This novel covers Lestat's vampire origin story as well as his first encounters with Armand and Akasha. Rice has repeatedly dismissed the movie version of The Queen of the Damned, so we'll see how those meetings unfold how Rice envisions them.
After an 11-year hiatus in The Vampire Chronicles, Lestat returned in 2014's Prince Lestat. His latest adventure unfolds in Rice's newest novel, Prince Lestat and the Realms of Atlantis, which will be released on November 29th.
Rice is currently on a book tour supporting Prince Lestat and the Realms of the Atlantis. She and her son will be posting questions on her Facebook page looking for fan input regarding The Vampire Chronicles, so make sure to check it out!