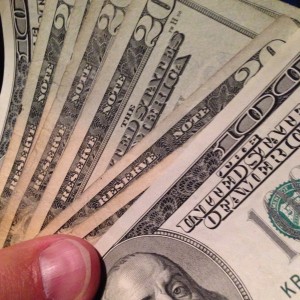 Courtesy of Hidden Cash/Twitter
Jonathan Frahm Staff Writer
@JNoodles_ It may sound squalid, but trust me, we're onto something here: If you happen to be in San Francisco, look out for the creepy white envelopes strewn about in random places. They very well could contain $100 in cold, hard cash! In a project entitled "Hidden Cash", an anonymous rich person is literally dropping sums of their money off throughout the bayside locale and tweeting hints about where they are. If you're lucky enough to find it? Well, dear super sleuth, the cash is yours! The only thing you really ought to do thereafter is verify your find by shooting a photo of it @HiddenCash's way on Twitter.
New drop: come for the cash, stay for the views. pic.twitter.com/XMUyh6XB2D — Hidden Cash (@HiddenCash) May 27, 2014
5 minutes past midnight, and no one but me at this famous SF landmark - City Hall. Left $50 right on the stairs. pic.twitter.com/SA6IYS9vc5 — Hidden Cash (@HiddenCash) May 24, 2014
New drop: under this chair. Please tweet when you find it. (Wow. That last one went fast!) pic.twitter.com/OBl2aiHc5d — Hidden Cash (@HiddenCash) May 23, 2014
Not only that, but according to this anonymous do-gooder, this project will soon spread to cities outside of the Bay Area. They reportedly "want to start a nationwide movement" from SF, to LA, to NYC, and more locales in the near future in a show of support for this innovative new type of charity". Love it! Keep Up With PopWrapped On The Web!