Anonymous certainly has made an interesting splash in the political pool. Their most recent target: Michigan Governor Rick Snyder. They are outing him for his involvement in the Flint water crisis -- but even they agree they are rather late to this particular party.
For those of you just joining the crisis coverage bandwagon, Flint is the largest city in Genesee County, Michigan, about 66 miles shy of Detroit. The city has now been in a state of contamination since April 2014, when the city's drinking water started showing signs of lead contamination. This prompted a serious public health concern, and some are even tentatively linking it to the outbreak of Legionnaire's disease that has already killed 10 people and affected 77 more.
All because they decided to switch the source of their water supply. It was switched from Lake Huron to Flint River in the state's attempt to save money on water costs until a new pipeline could be installed.
Of those exposed, about 9,000 children have been reported as "the most susceptible to lead poisoning."
Now the hacktivists are taking their own stand on the issue. The Anonymous Intelligence Group, a media account associated with the Anonymous cause, released an #OpFlint statement this past Wednesday.
"Anonymous Activates #OpFlint... And Yes It's About Time!"
The group begins by drawing our attention to the length of time Michigan has been in danger (since April 2014!):
"For over a year now the citizens of Flint, Michigan have been subjected to drinking tap water filled with lead and other poisons."
While we are now aware that Anonymous is outraged about the situation, the video does little to explain what they will do about it. But, rest assured, they are prepared to take on the cause with the full force of their power.
"We will amplify your [Flint's] voice where the mainstream media will surely fail you, as it has in the past. We will also join you in calling bullshit on any spin that the corporate media is prepared to put on this."
This announcement is hot on the heels of a federal class-action lawsuit filed by four Flint families against the Michigan government officials. Among those named in the lawsuit are Governor Snyder.
The lawsuit was filed a month after Flint's mayor, Karen Weaver, declared an official state of emergency and four days after President Obama declared a federal state of emergency. The president followed his announcement with $5 million in aid.
The Daily Dot and Vocativ Analysis have provided us with a chart, mapping out the Anonymous modus operandi since 2007.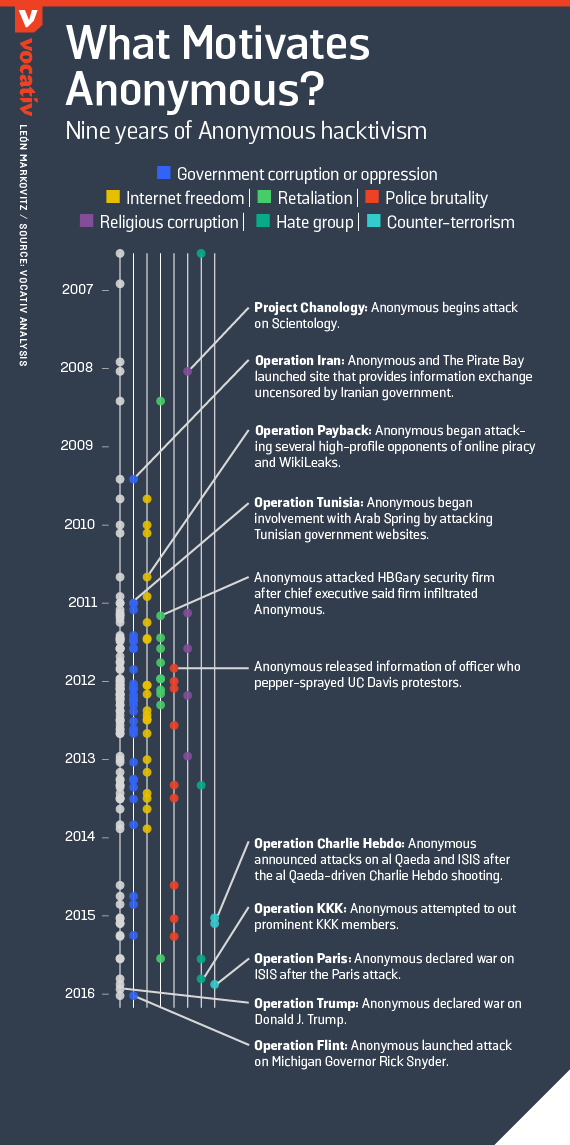 Daily Dot/Vocativ Analysis
Some other Anonymous causes you may have heard of include their stance against the abuse within the Church of Scientology, internet censorship, child pornography, Operation Charlie Hebdo, Operation Paris, and the more recent Operation Trump.
So what do you say, PopStars? Do you stand with Anonymous?