Nick Tucci
Content Editor
@nick_tooch A true fairytale romance born from a fictional fairytale television drama can of course only lead to one thing: bearing a child! In a statement from their rep to PEOPLE Friday night, Once Upon a Time's Ginnifer Goodwin and Josh Dallas, Snow White and Prince Charming respectively, welcomed their son into the world on May 29.

 "This is their first child. Both mom and baby are doing great."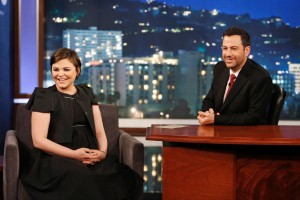 ABC

A very pregnant Ginnifer admitted last month to talk show host Jimmy Kimmel that the couple was having trouble deciding on a name for the baby.
"

Naming a child with the last name of Dallas is a little complicated. 

Not a first name that begins with a D because it gets corny and nothing geographical because it sounds like an airport. My husband said boy or girl, Austin Dallas. I said I'm pretty sure that is an actual place where planes land."
Actually, Ginnifer, those two cities are about 200 miles apart so you would be paying homage to TWO places where planes land! Good luck! Keep Up With PopWrapped On The Web!