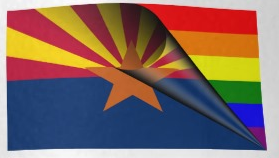 Via Zazzle
Jayden Sheppard
Staff Writer
@_jaydensheppard
Who would of thought in 2014 we would be reading about this!
The Arizona Senate has
allowed a bill
that expands the rights of people to refuse service of gays and others, due to their religious beliefs. This bill has been backed by Republicans.
Those opposed to the bill are Democrats and civil rights groups. They say it will allow discriminatory actions by businesses.
Apparently the case was prompted due to a incident in New Mexico. GOP Sen. Steve Yarbrough of Chandler says a Supreme Court allowed a gay couple to sue a photographer who refused to take pictures of their wedding, and that he is just protecting religious rights.
Democrats sponsored eight hostile amendments throughout Wednesday's debate. All were rejected by Republicans, who control the Senate.
Meanwhile, a similar bill is making it's way through the House.
Keep Up With PopWrapped On The Web!
http://www.PopWrapped.com http://www.Twitter.com/PopWrapped http://www.SoundCloud.com/PopWrapped http://www.Popwrapped.Tumblr.com http://www.Facebook.com/PopWrapped http://www.Instagram.com/PopWrapped http://www.Pinterest.com/PopWrapped http://www.YouTube.com/PopWrapped