The recent The Flash and Arrow crossover was absolutely intense, and set the stage for January's Legends of Tomorrow in a pretty epic way. Executive Producers Marc Guggenheim, Andrew Kreisberg, Greg Berlanti, and Wendy Mericle spoke with Entertainment Weekly about the events of the crossover episodes, and the fallout from Barry's heroic moment. Obviously, spoilers for both The Flash and Arrow follow.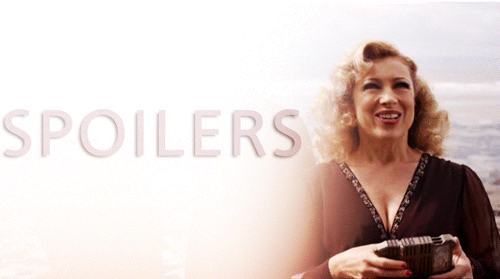 Tumblr
The big twist in this past week's crossover episodes wasn't just that Barry saved everyone; it was that Barry literally saved everyone. From horrifying deaths, too. The Flash fans will remember that no good time-travel-based deed goes unpunished, and that in last year's time travel adventure, for each life Barry saved, another person died. Marc Guggenheim, executive producer of Arrow, teased the consequences, saying "you're going to have to watch upcoming episodes of Arrow." This should make anyone who has seen the ominous grave scene feel a bit more sick about what might be to come. 
One of the most surprising, or least surprising given how Oliver Queen seems to never learn from his secret-keeping mistakes, changes made by Barry's travel through time was Oliver's decision to keep his child a secret from Felicity. Also surprising, honestly surprising, was the fact that Oliver's young son was William, not Connor, and that the mother's name was Samantha not Sandra, as many comic book fans had anticipated. Executive Producer Andrew Kreisberg said that the decision rested mostly with William's age, saying that "we didn't want to be tied in necessarily to a character like Connor not being able to be part of the show if we made him so young. To give us the leeway to still have Connor Hawke be part of the universe, that was the biggest reason we made that decision". 
Oliver keeping William a secret from Felicity for a few days was the reason for their break up in the first timeline, so what will the consequences of him keeping it a secret again, only more successfully? Executive producer Wendy Mericle said that "it's definitely going to come to a head in the middle of the season." She continued, potentially breaking the hearts of Ollicity fans everywhere:
Obviously for the arc of Oliver and Felicity's relationship this season, the fact that he's keeping this from her - true to what we've done on the show, if there's a secret somewhere, it's going to come out and it's going to have some serious consequences. We're really excited about how that's going to change things and it's really going to raise the stakes and throw some wrenches into the works of their relationship, which so far this season it's been pretty smooth sailing. True to form, we're really going to mine that. There will be some fallout for both of them.
Another surprising twist was that the team of heroes eventually did take down Vandal Savage, despite him being tapped to be the major villain in Legends of Tomorrow. Obviously, he'll be revived or resurrected somehow (perhaps by his old "buddy" Malcolm Merlyn?), but "it's saved for Legends [of Tomorrow]" says executive producer Greg Berlanti. Guggenheim adds "you'll have to watch Legends to find out."
The producers also confirmed that Legends, while existing in the same universe as Arrow and The Flash, will happen largely outside of both of those shows. Berlanti said that "Legends is its own wacky, crazy kind of thing that allows for some fun surprises in terms of who may visit and how, because they're flying through the timeline. But not on Arrow or Flash."
Cisco, who recently lost a girlfriend in Kendra, will begin to focus more on developing his powers. Kreisberg says that he'll experience a "further exploration of his abilities as Vibe, and what he can do, and what he's capable of". Cisco will also develop more of a relationship with Earth 2 Wells. Berlanti tells fans to look forward to episodes 13 and 14, which are "the most fun pair of episodes we've done" and which contain his "favourite Cisco moment in the history of the series". I personally cannot wait. 
The Flash airs on the CW Tuesdays at 8:00 p.m., Arrow on Wednesdays at 8:00 p.m., and Legends of Tomorrow will debut Thursday January 21 at 8:00 p.m.