Who's ready for some Spider-man speculation?! I am! Since the new Spider-man film was announced a few months ago, people have been falling over themselves putting forward names for who should take the web-slinger's mantle.
 As of yet, all we know about the project is that that they are going to be depicting a younger Peter Parker than the ones we have seen so far, and that rules out speculation that they could be going down the Ultimate Spider-man route and casting the African-American hero Miles Morales. Armed with that information, one of the most popular names being thrown around is Hugo/ Ender's Game star, Asa Butterfield.
Some people were not so sure about this and one user on Reddit questioned, of all things, his height.  Asa himself, using the name Stimpers (which he verified on an AMA last year), answered the questions and later deleted his responses. While he neither confirmed nor denied the claims, he did seem like he was promoting himself as a front-runner.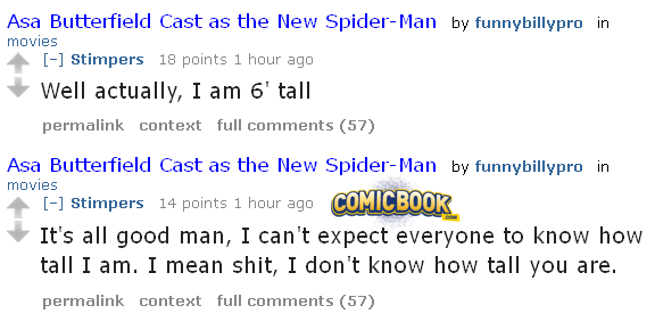 Courtesy of comicbook.com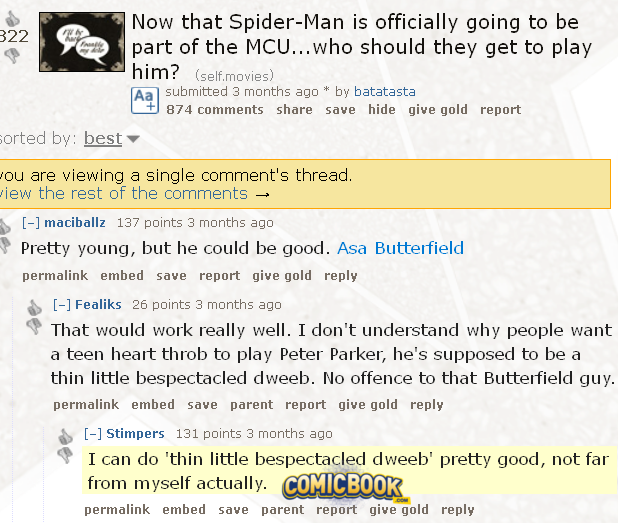 Courtesy of comicbook.com

Courtesy of comicbook.com
The question has to be asked, why would he deleted them if he wasn't leaking some form of sensitive information? Luckily the responses were screen-shotted and Comicbook.com made them public.  Do you think he would be a good fit? Let us know and stick with PopWrapped.com for more updates!
The new Spider-Man will appear in his own film, July 28, 2017.