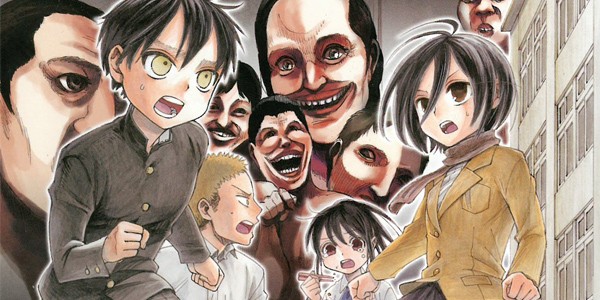 Courtesy of fandompost.com
The wait for Attack on Titan season 2 is certainly a long one, but fans need worry not because another form of Attack on Titan will soon be gracing our screens. Production I.G announced that the comedic Attack on Titan spin-off/alternate universe based manga titled Attack on Titan: Junior High will be receiving an anime adaptation that's set to premiere in October.
Attack on Titan: Junior High takes the characters we all know and love and places them in a whole new story where they're now students or teachers at Titan Junior High School; the manga series is a complete comedy and serves to tell a light-hearted story in comparison to the gritty and tragic Attack on Titan manga series. Fans reactions to Attack on Titan: Junior High has remained relatively mixed, but I personally enjoy the series due to the humorous circumstances. It's also nice to see these characters in "death and trauma-free" situations. Kodansha Comics holds the license for Attack on Titan: Junior High and just released a third complied volume earlier this year.
Along with the exciting anime adaptation news, Production I.G also streamed a promo of sorts that discloses the anime's voice-cast and staff. The promo also showcases chibi-fied versions of all the characters and I must admit I out rightly squealed at how adorable they all looked. According to Anime News Network, a majority of all the characters from the Attack on Titan anime series will be reprising their roles for this funny adaptation whereas Yoshihide Ibata (Haikyu!!) will serve as the series director. The series will premiere in October, but a specific date has yet to be announced!
Check out the promo for Attack on Titan: Junior High down below!
https://www.youtube.com/watch?v=wm3WBqihF-A&h=500
So, what did you think? Are you excited for Attack on Titan: Junior High? I know I sure as hell am and I'm crossing my fingers for a 22 or 24 episode season instead of a shortened 12 episode one; yes, I'm addicted to all forms of Attack on Titan and I'm not ashamed to admit it. Bring on October!