A new year brings new, exciting things to stare at in the night skies, and the first big event of 2016 is here.
This might be difficult for the night owls of the world to get up and enjoy, but a very spectacular sight is about to take place in the wee hours of the morning. The planets in our solar system that are visible to the naked eye - Mercury, Venus, Mars, Jupiter and Saturn - will form a celestial conga line in the southern sky. The most difficult planet to see will be Mercury, as it's been slowly working it's way up over the horizon, but should be fully visible starting January 20th. If, however, you need a little time to plan on when you'll get up early in the morning, you have until about February 20th to see the alignment, before the planets start to part ways.
According to EarthSky.org, the best time to view is in the pre-dawn hours, when the birds are perkier than humans normally are, and the skyline has that gentle light-blue fuzz to it. They predict that people in both the Northern and Southern Hemispheres will be able to easily see Mercury around January 25th, with the tiny planet being at it's most viewable point around February 7th. Humans lucky enough to be in the Southern Hemisphere will have a very solid chance to see Mercury for all of February. EarthSky is centering their data around the inner-most planet due to it's proximity to the horizon, as the other planets should be easily viewable as long as there isn't trees or buildings in the way.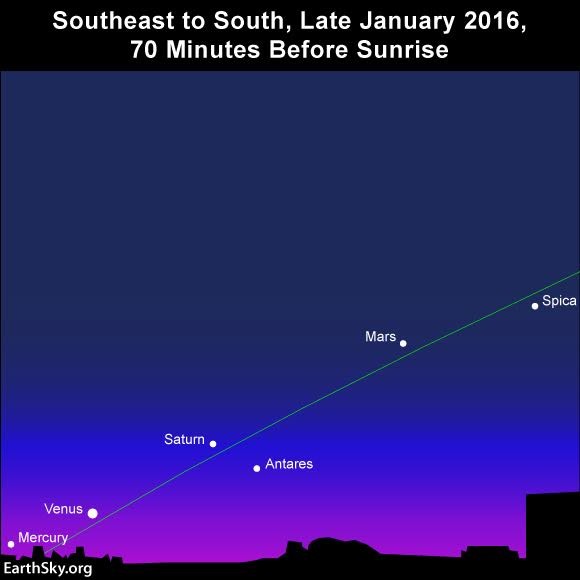 EarthSky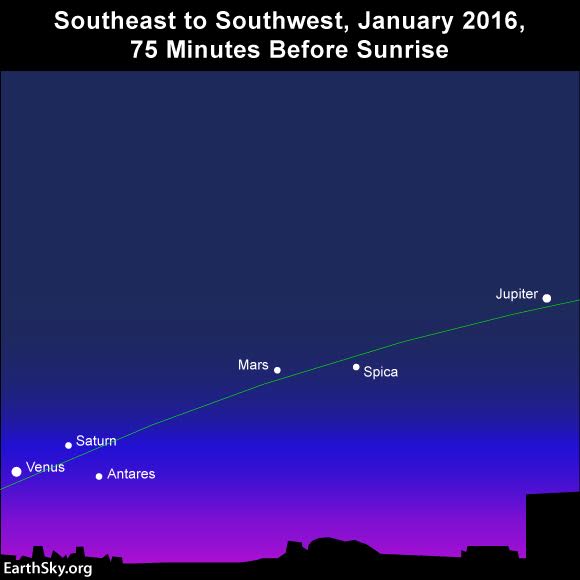 EarthSky
The last time the planets lined up in the sky like this was back in 2005, so it's not exactly a common occurrence. However, this funky line will form again in August of this year, but then won't make it's reappearance until 2018.
If you are indeed going to set foot outside in the early morning, do be sure to bundle up - stargazing with your teeth chattering is not the most ideal situation to be in. If you take a look at the alignment and have amazing photos, send them in and we'll be sure to Tweet them out for all the world to admire!