Kate McHale
Senior Staff Writer
died in a single car crash
near LaGrange, Georgia early Sunday morning. Easily one of the fan favorites from the 2010 National Championship, he is best described as, "a great player and competitor." He was  "a great teammate and friend off the field," is what his Auburn Head Coach Gus Malzahn had to say about his former tight end. Coach Malzahn also released this in a statement, "This is a sad day for the entire Auburn family. I find peace knowing that even though Philip was taken from us too soon, that he lived his life to the fullest, leaving a lifetime of great memories for his family and friends to cherish forever."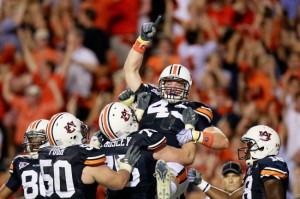 Courtesy of Bleacher Report
Authorities stated that Lutzenkirchen was ejected from a 2006 Chevy Tahoe. The driver, Joseph Ian Davis, 22, was a University of Georgia baseball player. He was partially ejected from his vehicle and did not make it out of the car accident alive. Blood was taken from Davis to see if alcohol was indeed a deciding factor in the
fatal accident
. Some may remember that Philip scored the game-preserving touchdown in the National Championship game against Alabama. In a different statement, Auburn athletic director Jay Jacobs said, "He had a strong faith, a big heart and a burning desire to help others. Philip was a bright light this world desperately needed, and his death leaves a void that can't possibly be filled."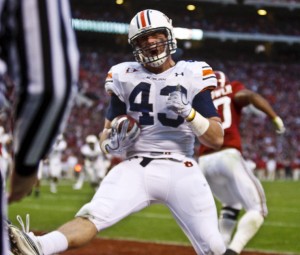 Courtesy of Bleacher Report
He is a player, and a person that will be greatly missed. Our thoughts and prayers are with everyone involved in this horrific accident.
Keep Up With PopWrapped On The Web!