2017 will be a Happy New Year for Audrey Hepburn fans. Warner Archive is set to release Wait Until Dark (1967) on Blu-ray while Twilight Time will bring Two for the Road (1967) to the format.
Wait Until Dark is a horror-thriller directed by Terence Young. It tells the tale of a blind woman (Audrey Hepburn) whose apartment is besieged by criminals who are in search of a heroin stash. Stanley Donen directs Hepburn and Albert Finney in Two for the Road, a romantic road trip drama about a married couple.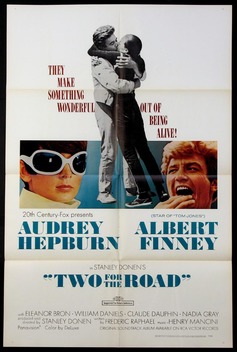 Blu-ray.com
These were Hepburn's last two films before her semi-retirement. She would return to the screen on a sporadic basis throughout the 70s and 80s. Wait Until Dark resulted in the final Oscar nomination of Audrey's career.
Amazon.com lists Wait Until Dark for pre-order at $21.99. The disc is said to be region free and officially releases on January 24th. Blu-ray.com reports that the Special features will include the "Take A Look in the Dark" featurette with Alan Arkin and Mel Ferrer, the Original Theatrical Trailer, the "Warning" Trailer, and a featurette that covers the making of the film.
Twilight Time lists Two for the Road as a limited edition of 3000, available exclusively on their webpage. You can pre-order the film starting January 4th for $29.95, with the release date following on January 17th. The disc is region free. Twilight Time details a list of special features consisting of an isolated music track, two audio commentaries, the original theatrical trailer, and the Fox Movietone Newsreel.
I performed a search in Blu-ray.com's database and cross-referenced it with Audrey's IMDB filmography. My results show that half of Audrey's 22 American films have been released on Blu-ray thus far. The released titles include: Sabrina (1954), War & Peace (1956), Funny Face (1957), The Unforgiven (1960), Breakfast at Tiffany's (1961), The Children's Hour (1961), Charade (1963), My Fair Lady (1964), Two for the Road (1967), Wait Until Dark (1967), and Always (1989).
The other 11 titles NOT available on Blu-ray are: Roman Holiday (1953), Mayerling (1957), Love in the Afternoon (1957), Green Mansions (1959), The Nun's Story (1959), Paris When It Sizzles (1964), How To Steal A Million (1966), Robin & Marian (1976), Bloodline (1979), They All Laughed (1981), and Love Among Thieves (1987).
Which Audrey Hepburn title would you like to see on Blu-ray next? Indicate your preference by voting below!
[socialpoll id="2408583"]