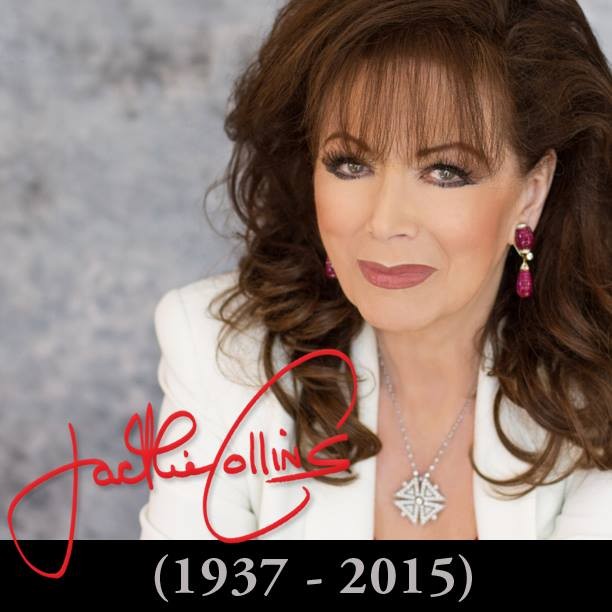 Courtesy of Facebook
The queen of sex and glamour, writer Jackie Collins,  lost her battle with breast cancer on September 19, 2015.  The 77 year old writer was diagnosed with stage 4 breast cancer six years prior to her death, but she kept it a secret until recently.  So secret in fact, that she only told her famous sister Joan two weeks before her passing.
Jackie began writing fiction while she was still in high school, a stunt that ended up getting her expelled after selling her  provocative tales to her friends.  Her amazing publishing career began with The World Is Full Of Married Men in 1968.  The novel was described as "nasty, filthy, and disgusting" and was banned in Australia and South Africa.  Jackie continued to make the world blush right up until her death.  All told, she published 32 novels, all of which made it to the New York Times Best Seller List.  Her books have been published in 40 countries and she has sold more than 500 million copies.
Born in London, Collins relocated to the United States, but maintained dual passports.  She was able to draw real-life inspiration for her novels while living among the Jet  Setters in Los Angeles, California.  She turned Hollywood glitz into fiction gold.
Collins was more than just a pretty face with a smooth pen.    She was involved with many charities supporting children's welfare, AIDS, and Alzheimer's issues.  She received an Officer of the Most Excellent Order of the British Empire (OBE Award) in 2013 for her literary and charitable undertakings.
Just weeks before her death, Jackie was out and about promoting he final book, The Santangelos.  Fittingly, this is the final book in her series about the Santangelo family.
Truly, the romance genre will never be the same.  The beautiful, prolific, and beloved author has left an indelible mark in the world of pop fiction.