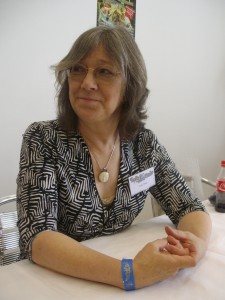 DJ SoundBite
Staff Writer
@DJSoundBite
Bestselling international author Robin Hobb made the trip from the US to come to the Supanova Comic Convention in Australia. While in Perth, I was lucky enough to sit down with her and discuss what goes into a book and potential spoilers for the upcoming novel
Fool's Assassin.
*Actual interview only lasts eight minutes.*
In the interview, I discovered that on average it takes her about a year to complete each book; so while we are expecting
Fools Assassin
to come out in August of this year, we will have to wait at a least another 2 before we get the conclusion to the new trilogy. Also, by her own words, she revealed a "massive spoiler" about the upcoming book with Fool and the Fitz about what the creatures in the Memory Stone are:
If you have stone that holds memory, and then you have portals that are made of this same stone…
Context is everything. I am not sure exactly what this cryptic clue means, but maybe one of you can figure it out based on the author's words. Be sure to leave a comment below on your theories. Also be sure to check out Robin Hobb's
website.
If you are in Australia, be sure to check out
Supanova.
Keep Up With PopWrapped On The Web!