Aedan Juvet
Senior Staff Writer
@AedanJuvet
Well, well. Azealia Banks is back at doing
the only thing she
knows
 how to do in order to gain attention: feud. The rapper, who has yet to release her album she talks so highly about, has sparked numerous feuds ranging from Lady Gaga, Lily Allen, Rita Ora, The Stone Roses, Pharrell, A$AP Rocky, Iggy Azalea and more. She likes to take shots at fellow artists who have achieved recognition for their hard work which has helped her become known as a social media hater. This time, Banks took to Twitter to share her unkind words about T.I.'s wife, Tiny: "U want no mediocre but…have you seen your wife?" She later deleted the tweet, which was a clear shot at T.I. with his current track "No Mediocre" featuring Iggy Azalea. She went on to tweet;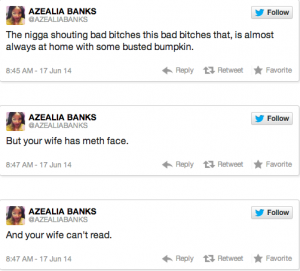 Courtesy of BuzzFeed
When T.I, caught wind of what Banks was posting online he took to Instagram posting a picture of her with a  long and wordy caption.
NOTE
: NSFW Language. "U musty-mouthed-thot-bot-bad-body-syphilis-lipped-rectum-vomit-unimportant-ugggggly-monstrosity-of-a-maggot-ass BIIIIIIIITCCHHHH!!!!!! If u speak ill of my family again….. I WILL END YOU!!!!!! #OnPHIL #OnDOE #NoBuuulllshit people fall down stairs daily…. U better watch yo step,u ungly-ass Gremlin-baby #nerveofdisCretin #f–kouttaheaFollow"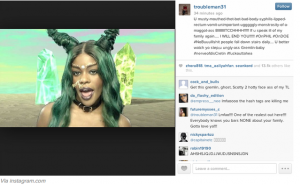 Courtesy of Instagram
The "212" rapper quickly responded with a vague comment, "come see me." She claims she will be suing T.I. for threatening her. Azealia Banks' primary focus should be invested in more time working on her music than worrying about what others are doing around her. When you become more known for feuds and ignorance, people seem to care less and less about your talent. Here's hoping she realizes this before she isolates herself from the industry.
Keep Up With PopWrapped On The Web!