Who would've known that Azealia Banks was into voodoo?! Hmmm...
As viewers clicked through Azealia Banks' Instagram story (aka Instasnap or Snapgram), they were plausibly disgusted to see the 25-year-old "212" rapper admitting that she has been sacrificing chickens in her closet for the past three years in honor of Brujeria Rituals. Brujeria is the practice of witchcraft which originated from Spanish and Native American cultures of the Southwest. Those who practice this type of black magic are said to be manifesters of evil.
"The amount of crap that's about to come off my floor right now, guys, oh my God," Banks stated. "Three years' worth of brujería. Yes, you know, I gotta scrape all this s*** up."
Wearing a pair of goggles, Banks proceeded to sandblast what appeared to be hundreds of chicken feathers and blood from her tiny apartment closet. She goes on to refer to herself as a "real witch."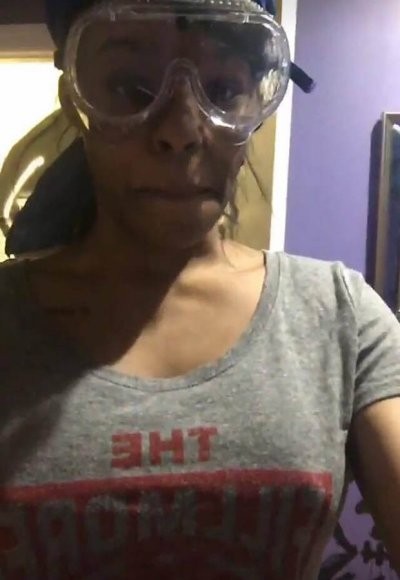 ibtimes.co.uk
Many were left in dismay, including singer and animal rights activist, Sia. In an upset tweet, the "Cheap Thrills" singer responded: "Sacrificing animals for your gain is the wackest s*** I've ever heard. Get ahead by being awesome, kind and working hard."
What did she do that for? In typical Banks' fashion, she fired back at Sia in one of her most belittling attacks to date.
"And your ugly pasty dry white lady winter skin face is the ugliest face I've ever seen that must be why you hide it all the time," tweeted Banks. "HAVE SOME F***ING RESPECT FOR MY F***ING TRADITIONAL AFRICAN RELIGION YOU POMPOUS WHITE B****."
Her Twitter account was suspended shortly thereafter.
A few days have passed, and Banks seems to be unfazed by it all. She began her New Year by trolling underneath a random Instagram user's obscene post which shows a side by side picture of the animated movie character Chicken Little and her blood-stained closet. Banks commented "LMFAOOOO."
Let's hope she receives the help she needs for 2017.