Bad Santa, what a film! It's so filthy, and it was even the rated version. As always, Billy Bob Thornton is gold as Willie aka Santa. He is an alcoholic, smoking, and horny Santa Claus. He has his own elf/little person, played by Tony Cox, who is a little asshole. These two are the definition of a dysfunctional pair.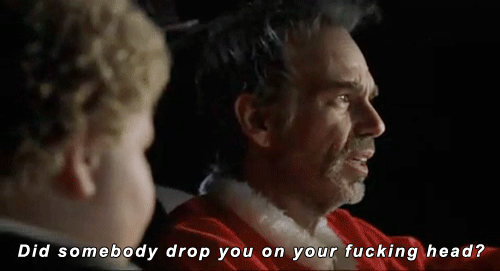 Imgur
The film also has two great stars no longer with us. John Ritter played the nervous mall manager, and Bernie Mac is the security guard who wants wants a cut in Santa's crime game.
The film also stars Lauren Graham, everyone's favorite Gilmore Girl, as a woman with a huge Santa fetish.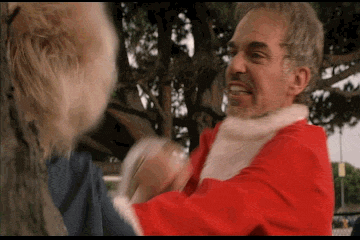 Gif Soup
Some great scenes in Bad Santa include: Willie showing up so drunk to his job that he fights the fake reindeer, EVERY scene with Thurman Merman, and the police chase in the climax of the film. Billy Bob Thornton does some special things in this film to really sell how bad his Santa is. He does an amazing creepy stare at younger women.
In once scene, as they decorate for Christmas Eve, his regular woman is leaning forward to decorate the tree up on a chair, and he places his hand on her butt before trying to unzip her skirt, all while the kid is in the room.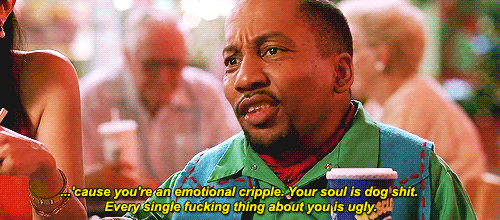 Pinterest
The movie is crude, but hilarious. The best part is that they didn't make Willie have too huge of a turn-around and stayed true to his character. He got the kid's present, but he still broke in and went to jail.
News has broken that there will be a Bad Santa 2 sometime in the future! It's so exciting because both Thornton and Cox will return, along with the kid. We don't know about Graham yet, but it wouldn't be hard to imagine that relationship didn't last.
Go watch this one again this year -- but just not with the whole family.