Each month is like Christmas for Netflix subscribers because it brings new releases. Whether it's your favorite original Netflix series, a new season of a cable television show, or a movie you've been dying to see, the streaming service delivers with numerous shows per month.
However, there is one show in particular that I had been waiting what seemed like months to appear on Netflix. It is BBC3's original series, Cuckoo, and if you haven't gotten a chance to check it out, I highly recommend it.
The show follows the Thompsons, an English family who lives in the town of Lichfield. Ken is the man of the house, a 6-foot-8 father and solicitor played by comedian Greg Davies. He is married to Lorna (Helen Baxendale) and has two children, Dylan (Tyger Drew-Honey) and Rachel (Tamla Kari, Series 1; Esther Smith, Series 2).
When Rachel comes back after studying abroad, she brings her new American husband, Cuckoo (Andy Samberg), a hipster with modern ideas and an absolutely insane mentality. He's not the smartest tool in the shed but is philosophical in his own unique way.
*SPOILERS AHEAD*
Things take a turn for the worse when Cuckoo, who is hiking in the Himalaya Mountains, attempts to save a mountain goat and take it off the mountain to safety. However, in his futile attempt, he claims that the goat has great balance, shortly before falling to his death.
Rachel is devastated, and, as the rest of the family continues their lives, she enters an uncommitted relationship with Ben, a solicitor at Ken's work who is young and attractive yet boring, dull, and passionate about order. However, everything is normal, and life goes on as if Cuckoo had never really existed.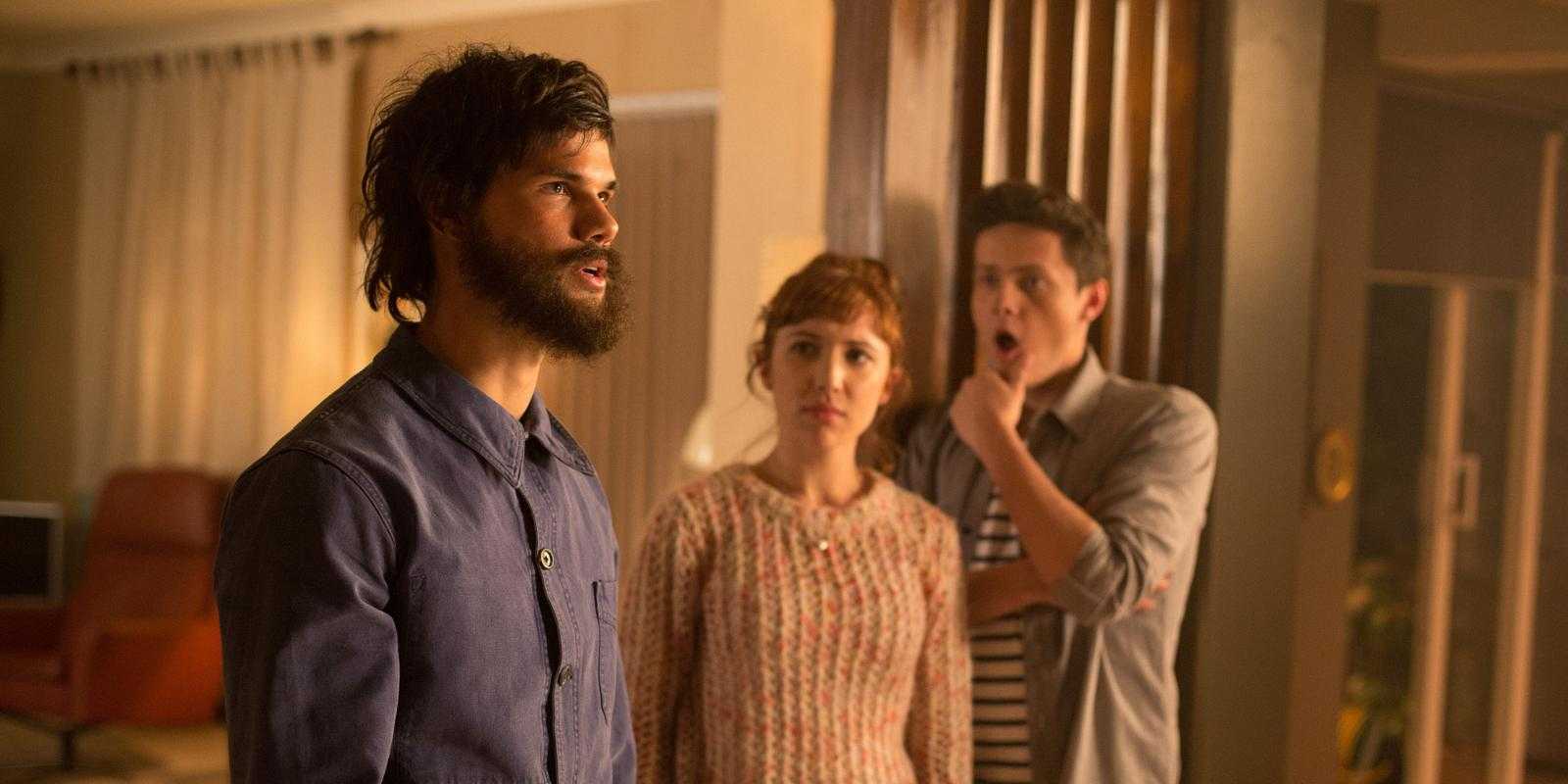 BBC3
The average life doesn't last too long, however, when Cuckoo's long-lost son, Dale (Taylor Lautner), comes to Lichfield looking for his father. He has left behind the cult he was born and raised into, and, when he is seen as unsure of how the real world operates, the Thompsons take him in, and life gets just as insane as it was when Cuckoo was around -- especially because the only world he believes in is one where eating at an oak table is a sin, along with swallowing saliva, judging family members, and staring at a woman's chest.
This is an incredible series from BBC3, one that I enjoy immensely. Though it needed a change in actors, Taylor Lautner has done an amazing job filling the void of Andy Samberg. He creates a character that you fall in love with right away, even though he is adorably idiotic and confused he is while adjusting to the real world.
It's your traditional British comedy, but each storyline that comes into play per episode will just make you laugh. Even the concepts make you laugh. Davies is hilarious as usual, Drew-Honey creates a character that you love and hate at the same time, and Lautner's Dale provides a sweet, gentle character who is innocent and means well, but, at the same time, creates a lot of chaos.