Last Sunday at the Donald E. Stephens Convention Center in Chicago, the stars of Gotham graced Wizard World Comic Convention with a Q&A panel. In attendance were Ben McKenzie, who stars as Jim Gordon, Sean Pertwee, the elusive Alfred Pennyworth, and Milo Ventimiglia, who portrayed the Ogre in season one's most twisted Gotham plot of all. Although only McKenzie and Pertwee were scheduled, Ventimiglia surprised the panelists following his own panel the day before.
McKenzie revealed that the cast of the show actually trains with the LAPD. After a bit of poking fun at each other, McKenzie also spilled that although the entire cast is very laid back, Pertwee goofs off most on set. Jesting the show on its imbalance of keeping with the classics and being something new, McKenzie quoted, "In case you weren't aware that this guy is the Riddler, he is going to give a riddle in every single episode."
In the midst of the fan questions, a fan had the microphone ripped way from her on camera. On the big screens in front of the main stage, the Penguin (a cosplayer) appeared, asking for a favor from his "old friend" Jim. The three actors laughed and were shocked when a Harvey cosplayer pushed Penguin aside, telling him to not take the offer Penguin would propose. Cobblepot's mother appeared behind the two squabbling men, clutching her chest, distressing about the safety of her son. This small but intense fan performance resulted in a standing ovation from the actors from the stage.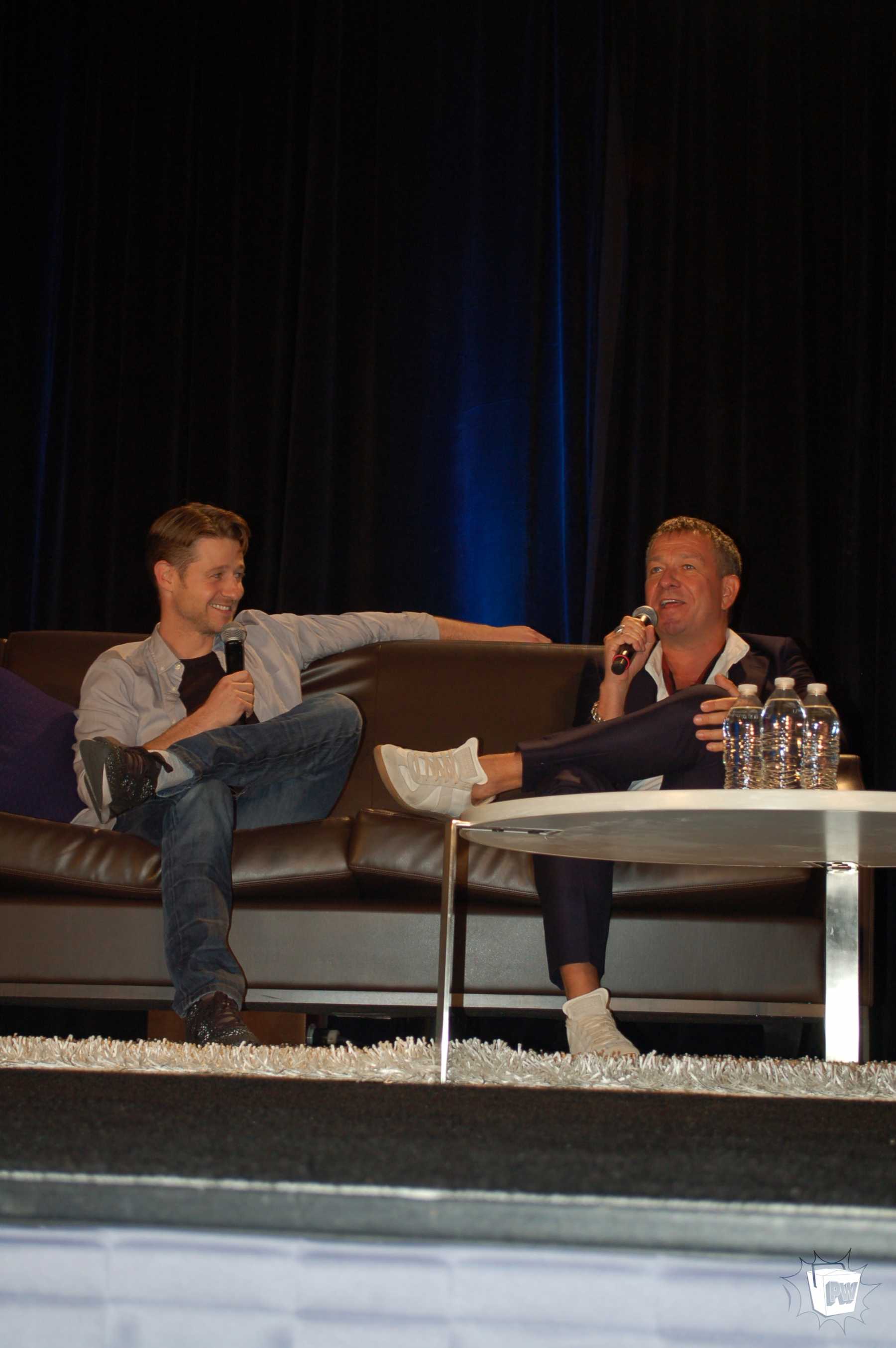 Courtesy Ariel Bradford, Ursula Bradford, and Edwin Bradford
Sean Pertwee talked about how he enjoyed giving Alfred more of a back story. Although his parenting skills may not be the best, Sean talked about how Alfred is still suffering from PTSD since his military days. He says that he will "bizarrely" and "contractually" be more involved in Bruce's life in season two.
An audience member asked how the cast feels about Supergirl, who is also DC Comics, and how she will be pitted against Gotham. McKenzie immediately replied with, "It's certainly time we have a female superhero," since they are truly lacking on television right now. All three cast members wish the show the best of luck and are happy Supergirl is part of their family.
In season two, the actors revealed we will see Mr. Freeze, Firefly, Riddler, and Lucius Fox. Although the GCPD is playing "Whack-A-Mole" with villains, according to McKenzie, the last scene of the last episode of the last season of Gotham will, most certainly, end with Bruce putting on the Batman suit.