Christina Dogas
Staff Writer
Sherlock 
actor Benedict Cumberbatch has graced his
handsome presence
in snowy Finland for British Airways'  
High Life
magazine photo shoot.
Sherlock
is the most watched British television drama in over a decade. Cumberbatch fills the cover of the
High Life
's April 2014 magazine. He is wearing a long fur-collared jacket with a chunky blue scarf, only adding to his dashing good looks. His brown hair is combed back as his blue eyes are visibly vivid.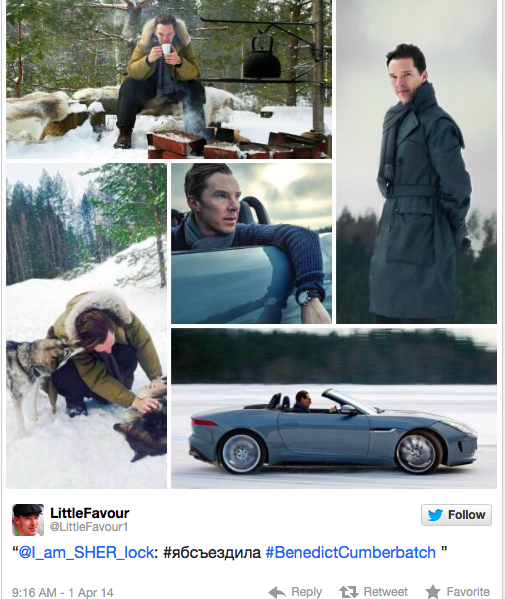 Courtesy of High Life/ @LittleFlavour1/ Buzzfeed
Because of his large amount of fans, they posted pictures of the photo shoot on Twitter and Instagram. The daring actor drove across a frozen road in a Jaguar F-Type convertible. Yes, with the top down. Who knew the on-screen detective was brave and bold? In the magazine, he is grouped with two beautiful dogs. Not only is he petting the dogs, but also
playing
with them! A fan even created a creative art piece of Cumberbatch and the dogs. Is it just me or does this picture make you want to play with a dog?
Courtesy of High Life/ Buzzfeed
Courtesy of enerjax.tumblr.com
Lastly, he is photographed sitting by a fire and sipping a hot beverage.  Driving around in a convertible, playing with dogs, and taking gorgeous photographs in Finland would make me want to warm up at a campfire and drink something hot. Wow, he sure does take amazing photos! Swoon!
Keep Up With PopWrapped On The Web!