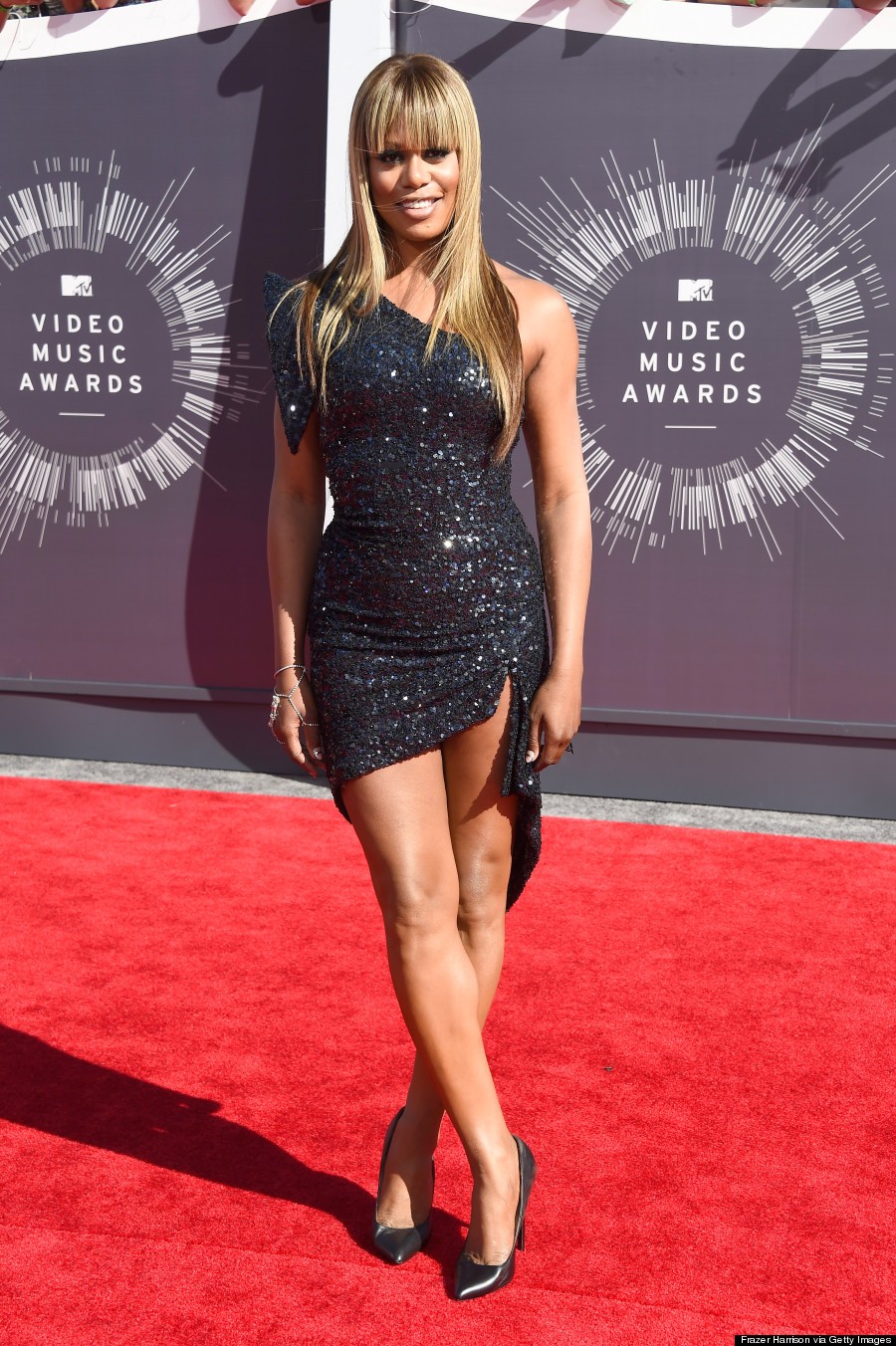 Ah awards shows. Last night's VMAs was a perfect storm of drama, music, activism and, yes, fashion. Though, admittedly, some stars fell waaaaay short when it comes to the fashion aspect. Check out our best and worst of the VMA fashion below!
WORST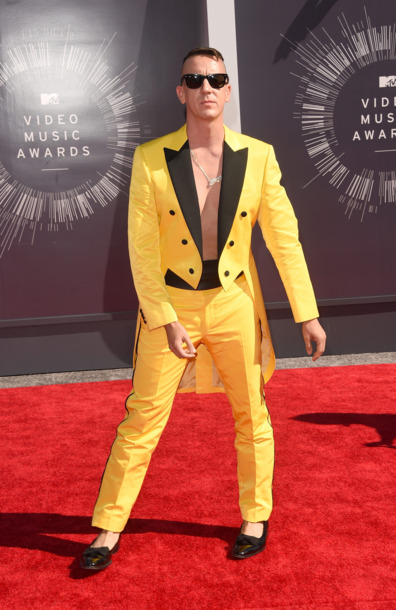 Jeremy Scott:
I don't know who this dude is, but he looks ridiculous. It's like a mix between a matadore and Big Bird, or something? I don't even know but my retinas are burning.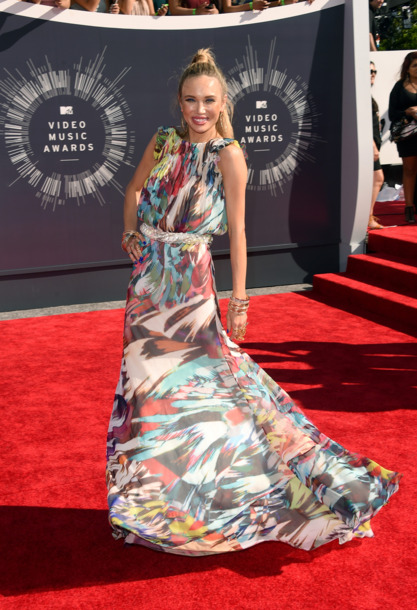 Natalie Gal:
Again, not sure who this is, but there is a WHOLE lot going on with this dress; and none of it is good. Her tiny frame is swallowed up in the oppressive fabric.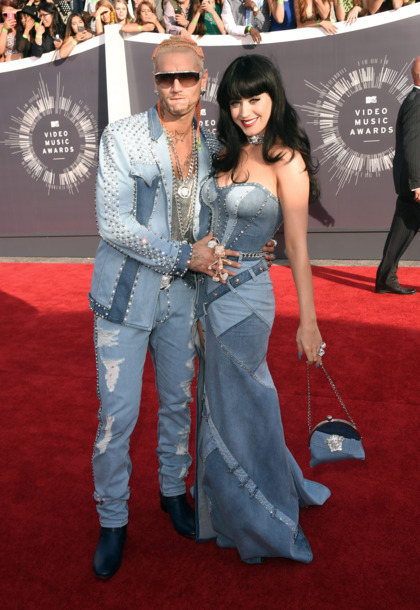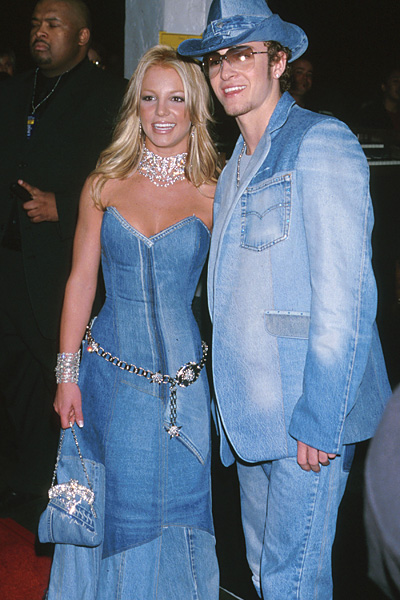 Katy Perry and Rif
f
Raff:
Okay Katy, we get it. You have no originality AT ALL and have found your own success by copying the success of those that have come before you. But frankly, this was ridiculous. It was ridiculous in the nineties when Justin and Britney did it; but at least there's was ORIGINAL. And to be honest, your date looks more like Kevin Federline than Justin Timberlake. You're just a mess.
Ariana Grande:
I swear I just do not understand this girl. She claims her hair has been so damaged from the red dye job she had to get on
Sam & Cat
that there's nothing else she can do with it. Bull. Shit. Maybe try an up-do? Or take it out of the childish half-pony and just let that shit flow! Oh, and is she a dominatrix now? The conflicting looks of her over-sexualized "dress" and ridiculous thigh-high boots and her grade school hair just screams identity crisis. That's what stylists are for sweetie; to choose your identity for you! Well, for big red carpet events, anyway. She is a beautiful, talented woman who really needs to just own it and grow all the way up.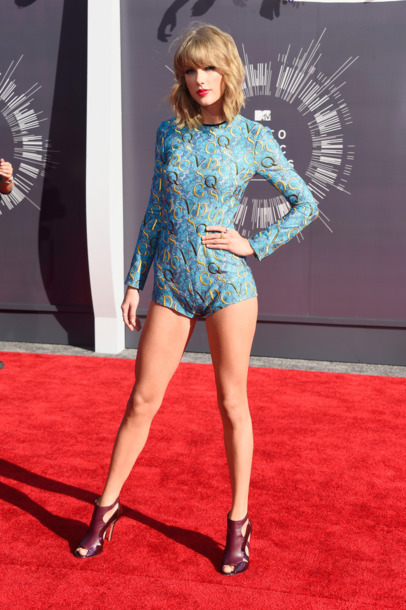 Taylor
Swift:
Taylor: THIS is why the haters gonna hate, hate, hate. Because just look at you! Did you forget your pants?!
Worst Dressed of the night: 
I have to give it to Taylor. I've rather come to expect Ariana to look bad, and Taylor is wealthy enough and has been around long to hire a decent freaking stylist, already.
BEST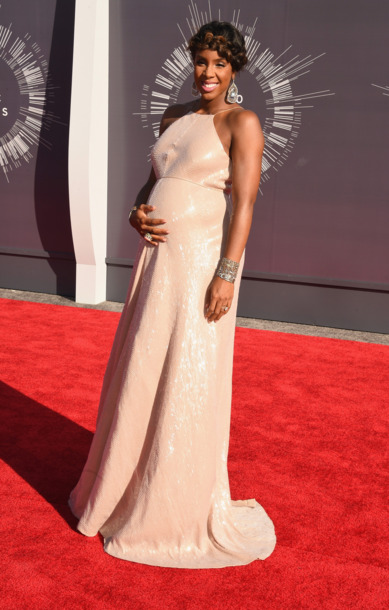 Kelly Rowland:
I absolutely love seeing beautiful, glowing pregnant women on red carpets. Some don't quite know how to dress their bumps (I'm looking at you, Drew Barrymore), but others absolutely shine. Rowland falls into the latter category. The soft color and shimmery fabric helps to kick that pregnancy glow up a notch, and I think she looks stunning. I may have gone with different hair, but that's really just me being picky.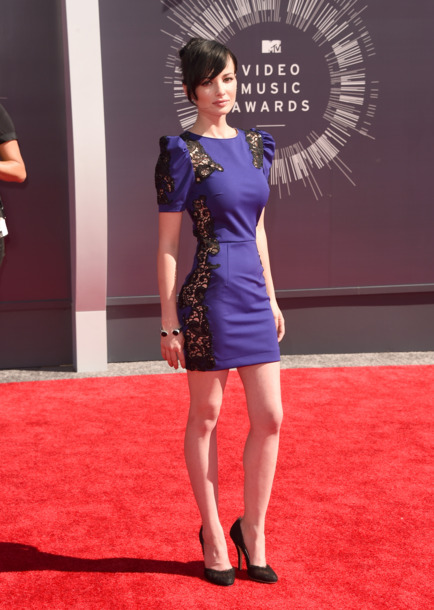 Ashley Rickards:
I have never personally watched
Awkward
, but I may have to now to catch a glimpse of this beauty. This look is perfect on her. She went with an edgier look, but kept it simple. The capped sleeves and high shoulders give it a touch of the simplistic, while that gorgeous jewel tone and subtle cutouts amp up the sex appeal. I think she looks flawless from head-to-toe.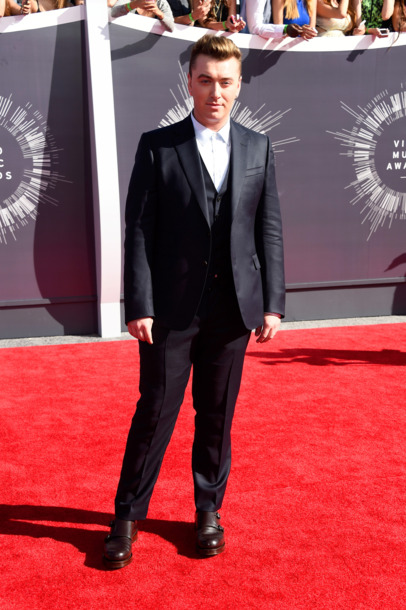 Sam Smith:
I like that Sam Smith opted to go a little more formal on the red carpet. While Ed Sheeran looked like he literally just rolled out of bed, the fallen angel that is Sam Smith graced us with, not only his angelic voice in his magnificent performance of "Stay With Me," but he made all of the other men look like scared little boys in his sleek suit. Not completely sold on the shoes, though...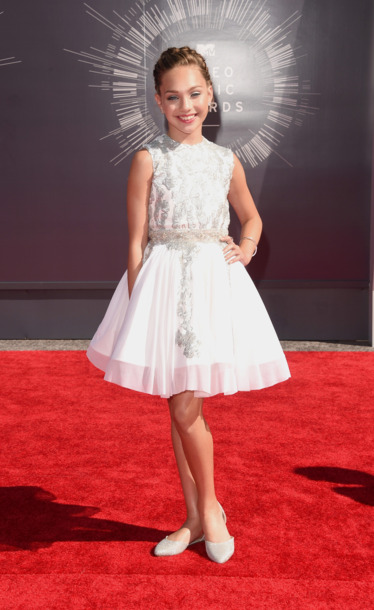 Maddie
Ziegler:
I thought Maddie looked great. Fresh off her uber success dancing in Sia's video for "Chandelier," Maddie took the red carpet by storm. Her dress and shoes are age-appropriate, her hair and makeup are not too heavy and she looks fresh and young. Major kudos to whoever styled this look!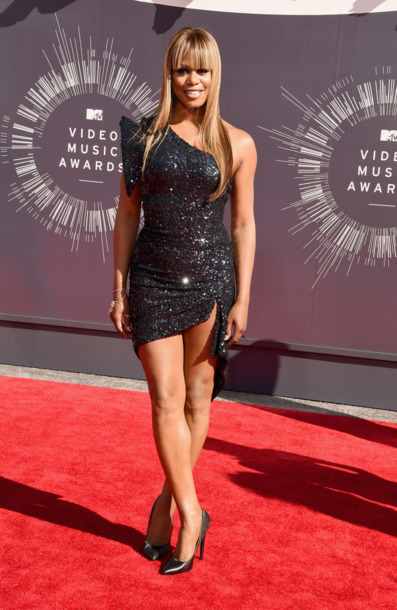 Laverne
Cox:
Look. At. Those. Legs. Dayum. I think this woman is absolutely gorgeous, and I loved her look at the VMAs last night. She is not only a beautiful person inside and out, she is brilliant and puts her overnight success to good use with her advocacy. I could not possibly love her more. Plus, she looked BANGIN' in that LBD!
Best of the night:
This is a tough one. I keep going back between Ashley Rickards and Laverne Cox. But, in the end, that purple jewel tone really got me, and I'm giving the crown to Ashley.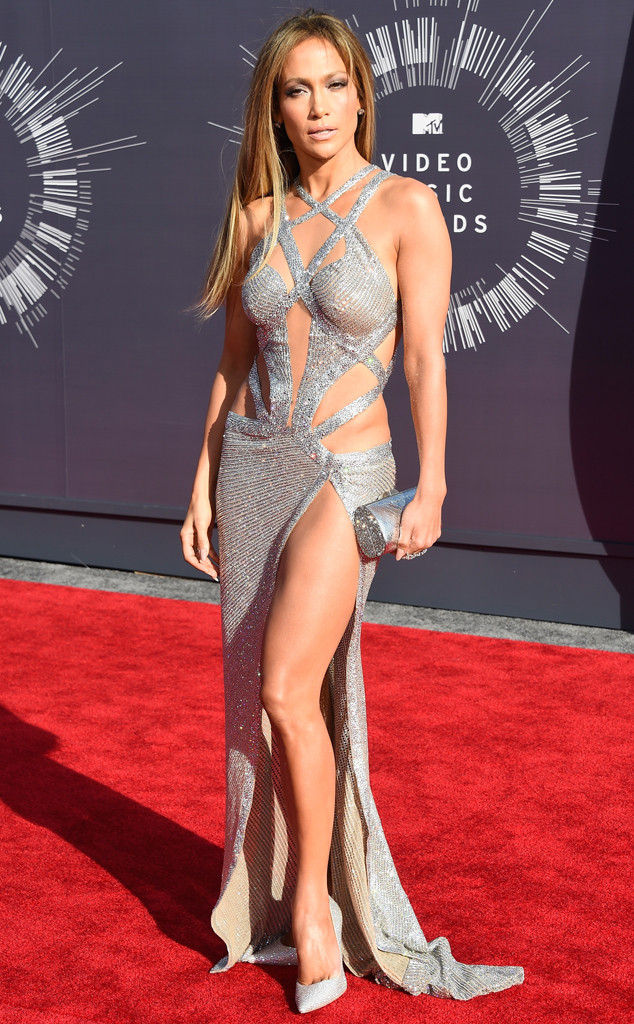 Honorable Mention:
I'm giving this honorable mention to Jennifer Lopez; for even though I felt that her gown was, well, trashy and not befitting a legendary diva such as herself, I have to give her props for putting every single woman, including those half her age, to shame with her body and her beauty. So what say you, PopWrappers? Who gets your vote for best and worst looks of the night? Be sure to cast your vote in the polls below and let us know! [yop_poll id="43"] [yop_poll id="44"]
Keep Up With PopWrapped On The Web!
Twitter 
SoundCloud
Facebook
Instagram
Tumblr
Pinterest
YouTube