Roxanne Powell
Senior Content Editor
Rumors are flying, but the truth is subjective
. Some will tell you Beyonce and Jay-Z are fixing to get their knot untied, while others will tell you there's no way in the seven hells. Well, prepare to put your speculation to rest! Queen Bey took to her Instagram a few days ago with a loving photo of her husband and daughter, Blue Ivy, with the caption, "My favorite hue is JayZ Blue." Tell me, do you think this photo lays the rumors to rest?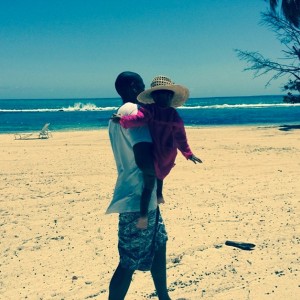 Courtesy of Instagram/E Online
While the press is convinced the couple will put the breaks on their marriage at the end of their
On The Run
tour, fans have nothing more to go on. Cryptic Instagram posts do not a rumor quell, even if the photo is super cute and adorable. Recent reports from 
The New York Post
swore Beyonce has been shopping for apartments without her husband. Apparently, a particular $21.5 million penthouse in Chelsea caught her eye. Then there was the elevator fight back in May between her sister, Solange, and the "99 Problems" singer at the Met Gala event. Whether or not the skirmish was over his flirting with Rachel Roy, Beyonce has since assured the public they had all "moved forward as a united family." But if they're moving forward, united and strong, why did Queen Bey change the lyrics to her hit 2006 song "Resentment" while on tour? The changes lean heavily on the rumors of Jay-Z's infidelity toward his wife. Recent photographs of the couple have even shown Beyonce's "IV" tattoo to be fading--something she wears in lieu of a wedding ring. Another sign, or just an indication of the years they've been together? Be sure to let us know what 
you 
think in the comments below!
Keep Up With PopWrapped On The Web!