Billboard took time today yesterday to honor some of the most prolific and cutting edge women in music at the Women In Music event.  The luncheon took place in New York City and marks the tenth annual year that the awards have been giving out.
The Women In Music event honors women who have had a lasting impact on the sphere of music, and this year's event paid tribute to some of the biggest names on the scene.
Lady Gaga received the top honor of the event, as she accepted the sought after title of Woman of the Year.  She was introduced to the stage by a heartfelt speech from her mother Cynthia Germanotta, which recognized the years of hard work and drive that Gaga has put into her career.
During her acceptance speech Gaga spoke candidly about the impact that women have on the music world, stating that "women provide a wisdom to music that is very unique and special. It is a perspective no one else can have because we bear life. And because we go through things no one else goes through. And because it's right. Because we're all equal."  Her earnest words shed light on how worthwhile it is for a woman to share her craft in a male dominated field.
Other women recognized at the event included Selena Gomez (Chart-Topper), Kelsea Ballerini (Rising Star), Fifth Harmony (Group of the Year), Brittany Howard (Powerhouse), Missy Elliott (Innovator).  Tori Kelly (Breakthrough), Demi Lovato (Rulebreaker), and Lana Del Rey (Trailblazer) also received recognition.  Iconic country queen Loretta Lynn received the Legend accolade rounding out the awards portion of the 2015 Women In Music Event.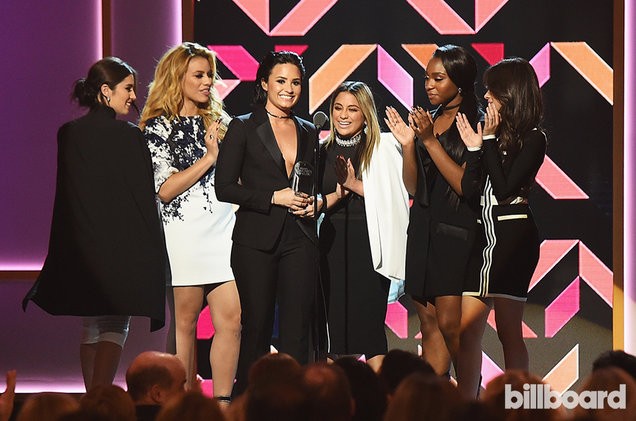 Billboard
Many of the award recipients also took the stage to perform at Billboard's Women In Music event.  Lady Gaga brought out her emotional Grammy nominated "Till It Happens To You," performing the ballad in front of the piano.  The track tackles experiences with sexual assault and was included on the soundtrack for The Haunting Ground, an expose into sexual assault on college campuses.
Fifth Harmony treated the audience to a medley of hits from their own catalog and from previous reigning girl groups.  Selena Gomez stripped back current Revival single "Same Old Love," and Demi Lovato predictably stunned with a performance of Confident ballad "Stone Cold."
Others in the audience at the event included Lady Gaga's jazz buddy Tony Bennett, Alicia Keys, Hailee Seinfeld, and Ciara.  The red carpet at the Women In Music event featured a bevy of feminine and professional looks.  
Billboard's Women In Music awards will be broadcast on December 18 on Lifetime.  The show is set to run at 8 PM and will allow fans the opportunity to join in on honoring the talented women!
Will you be checking in to watch the Women In Music awards?  Let us know below!