On August 21, 2015, four heroes: Spencer Stone, Anthony Sadler, Alek Skarlatos and Chris Norman were able to subdue a terrorist aboard a train from Amsterdam to Paris.
The terrorist named Ayoub El-Khazzani was well prepared and was carrying 270 rounds of ammunition and a bottle of petrol. He could potentially have killed every single passenger if it wasn't for the action of these brave men. Thanks to them, no one but Spencer Stone suffered any injury.
In honor of what they did, France would grant them the nation's highest honor, the Legion d'Honneur medal, which no less than the President of France, Francois Hollande, could grant them in a ceremony.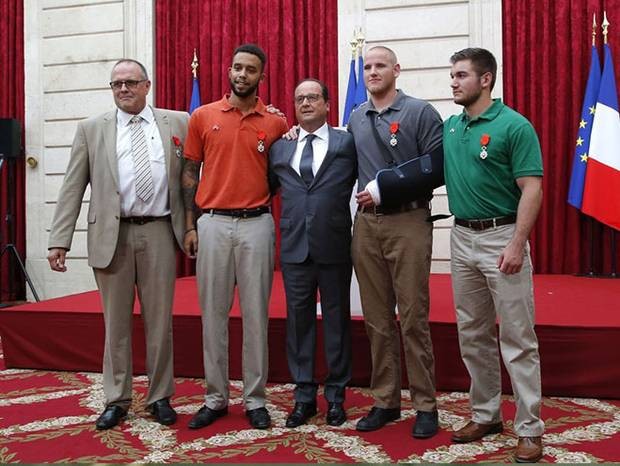 Courtesy of independent.co.uk
Unfortunately, the mothers of three of the men, who were Americans and therefore lived across the Atlantic, had no way to get to Paris in time to attend the prestigious event.
But fret not! A billionaire and his pilot caught wind of the news and was more than happy to help.
Things started rolling when Pilot Doug Perril asked permission from his boss Columbia sportswear CEO Tim Boyle, "Would we be willing to fly them in our plane to Paris?" he asked, to which Boyle replied "Yeah, we'd be happy to do that."
But it wasn't just the transport that was taken care of. Apparently, one of the mothers did not have a passport and so Perril worked with the U.S. State Department to get one on short notice.
Three grateful mothers were able attend the ceremony and watch the men they raised from boyhood thus honored in front of a global audience and a grateful nation.