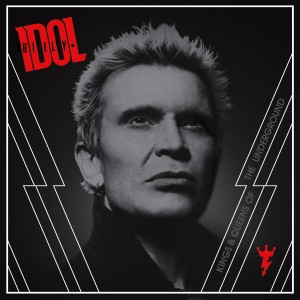 Courtesy of: Rock Cellar Magazine
Whether you're 16 or 60, chances are that if you've ever been into rock music, Billy Idol has had some sort of lingering presence on your life. His single "Rebel Yell" became a hit in the US upon its release in 1984 and is constantly called one of the greatest hard rock songs of all-time. Between that, 2 platinum albums, 2 gold albums, and an MTV Music Video Award, Idol's been a pretty big name in the industry since his debut with the band Generation X back during the late 1970s.
Now, Idol's at it again
 as plans for a new solo album have been unveiled. The album is called
Kings & Queens of the Underground
 and is currently slated for a release on October 21, 2014. 
It'll be his first-ever self-released LP
, since the album will be published through Idol's own label, BFI Records.
Kings & Queens of the Underground
will be Idol's eighth overall solo studio record. While you'll have to wait until late October to pick it up and hear it in its entirety, you 
can
 listen to a stream of its debut single, "Can't Break Me Down", NOW on
Billy Idol's official website
. Check out the track listing for 
Kings & Queens of the Underground
below: 1. Bitter Pill 2. Can't Break Me Down 3. Save Me Now 4. One Breath Away 5. Postcards From The Past 6. Kings & Queens Of The Underground 7. Eyes Wide Shut 8. Ghosts In My Guitar 9. Nothing To Fear 10. Love And Glory 11. Whiskey And Pills
Keep Up With PopWrapped On The Web!
Twitter 
SoundCloud
Facebook
Instagram
Tumblr
Pinterest
YouTube