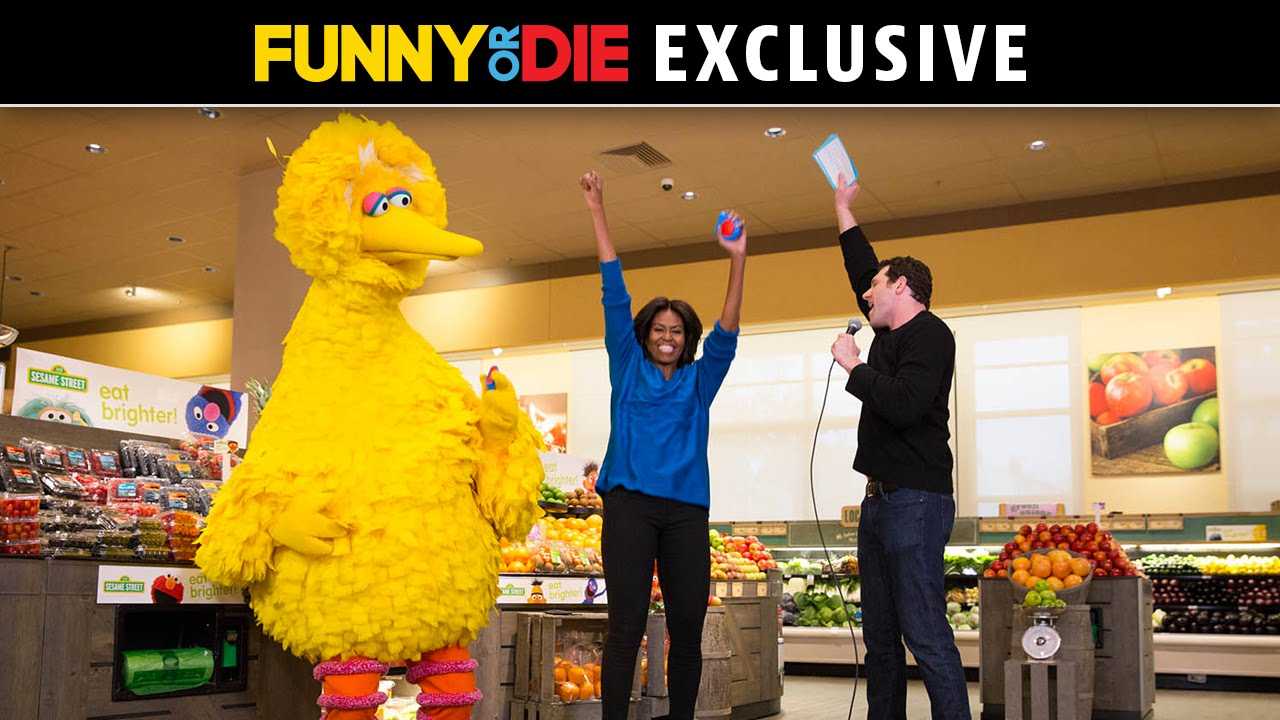 Billy Eichner is back with a brand new episode of 
Billy on the Street
from
Funny Or Die
and 
Fuse TV, 
but with a few minor (and hilarious) changes. Rather than sprinting for his life on the streets of New York City, Billy has taken on the aisles of a supermarket with none other than the FLOTUS herself, Michelle Obama, and our favorite friend all the way from
Sesame Street
, Big Bird. Oh… and Elena. The game is perfectly named: "Ariana Grande or Eating a Carrot?!" In this insane PG-version of 
Billy on the Street
, the FLOTUS, Big Bird, and Elena take on some comical-angst in their pre-competition interview and proceed to battle in a trivia showdown, complete with buzzers (does Big Bird even have thumbs?!). Big Bird proves to be useful though as he supports Mrs. Obama in her bonus round, which is obviously called the FLOTUS BONUS.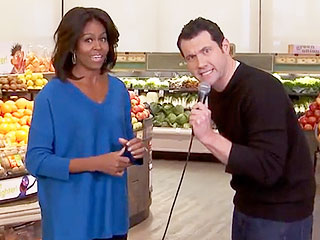 Courtesy of funnyordie.com
Michelle Obama is the ultimate contestant as she laughs her way through a series of ridiculous tasks, including pushing Billy in a shopping cart, hiding behind produce, and winning a grand prize photo of Ariana Grande's ponytail. The FLOTUS isn't afraid to throw the sass right back at Billy, politely reminding him that he "could get shot" at anytime throughout the episode. Not to be outdone, Big Bird's facial expressions are spot-on and Elena's blatant honesty throughout the whole game is magic. Oh, and there's some slow dancing. It wouldn't be a true episode of
Billy on the Street
without some fast-paced sidewalk spiriting, and Billy takes Big Bird along for the ride as they hand out money and carrots to confused strangers who answer biased trivia correctly! The episode was produced to promote the
Eat Brighter campaign
 from the Produce Marketing Association, which has partnered with produce companies and
Sesame Street
to bring some of our favorite characters to labels on healthy produce. They hope to "make eating fruits and vegetables exciting for kids and their parents," says the FLOTUS. The decision for the 
Eat Brighter campaign
 to promote their cause with
Billy on the Street
? Genius. See for yourself below! http://www.funnyordie.com/videos/3ea0a43d3d/billy-on-the-street-with-first-lady-michelle-obama-big-bird-and-elena
Keep Up With PopWrapped On The Web!