Dance is a form of art that can express all the emotions felt deeply in one's soul. This week's Dancing with the Stars' Most Memorable Year Night provided Bindi Irwin with the chance to tell her side of a story that shocked the world.
The contestants had the opportunity to portray the most important year in their lives. Bindi's choice was to tell the story of losing her father, Steve Irwin.
Bindi performed a contemporary dance with her partner Derek Hough to a cover of "Every Breath You Take" by The Police.
Steve, Bindi's Father, was the Crocodile Hunter and was known around the world for his wildlife documentaries. It was no surprise to people to see Steve, swimming with various fish or hanging out with crocodiles.
The world was caught by surprise in September 2006 when Steve was killed by a stingray while filming for another documentary. Despite it been nine years since his death and delivering a eulogy in front of thousands in his honor, Bindi still feels the emotions from the loss of her father.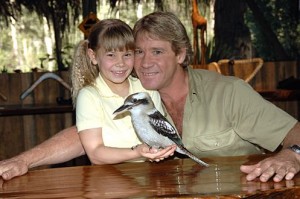 Courtesy of Pinterest
"It's been nine years and I've never really dwelled on that point," She said in the pre-recorded segment. "It took a really long time to understand what actually happened. For the rest of my life, I'll kind of feel like he's going to come home."
Hough had to cover his partner's ears during the playing of the pre-recorded segment so that she could focus on the dance. As soon as the song ended, Bindi broke down into tears into her partner's arms.
Bindi and Hough earned the highest score of the night, a 28 out of 30, with the very first perfect 10 from judge Bruno Tonioli.
"Tonight, it was all about remembering the fact that dad is always with me," she said after the performance. "I carry him in my hear
t."