Black-ish is back with Season Three on ABC tonight, and we see the Johnsons take the VIP trip of a lifetime. Dre wants to give his family the vacation experience he never had as a child, so he schedules all the bells and whistles. The episode is half advertisement for Walt Disney World -- and a beautiful, convincing advertisement it is -- and half typical Johnson family hijinks.
The vacation is almost derailed before it even begins, as Dre's company is designing a campaign for Microsoft which needs immediate retooling, and he's lead on the project. He manages to convince Stevens that Charlie is up to the task -- when has Charlie ever been up for any task?? -- and jets off for his VIP experience.
Dre has brought his parents along on the trip, and they are crabby and defensive about the whole thing. They are determined to have a miserable time -- on Dre's dime, of course. Dre remembers back to visiting DisneyLand as a kid; he wanted to have the same kind of fun experience as the kids he saw around him, but they were sitting on a bench eating home-brought tuna sandwiches instead.
As part of the VIP package, they have "bought" a park guide. It's the Dean! Dean-Deanie! Jim Rash, best known as Dean Pelton in Community, is Cody, the Disney Park Guide, who leads them to the front of every line for every ride. The kids act like the spoiled brats they often are, and there's a sharp moment of commentary when a guy in the regular line thinks Dre is Marshawn Lynch -- mostly on the basis that he's a big black guy in the VIP line.
Bow finds out that being proudly pregnant does nothing for her time at Disney World since she's not allowed to ride anything fun. She wanders off to find Ruby and Pops, busy having the miserable time they intended. Deciding to abandon ship and go back to the hotel, they find themselves on Soarin' Around the World and accidentally have a good time on it. Despite their best efforts, they end up on more rides and in gift shops and in parades. They have an absolutely fabulous time -- even grumpy Pops.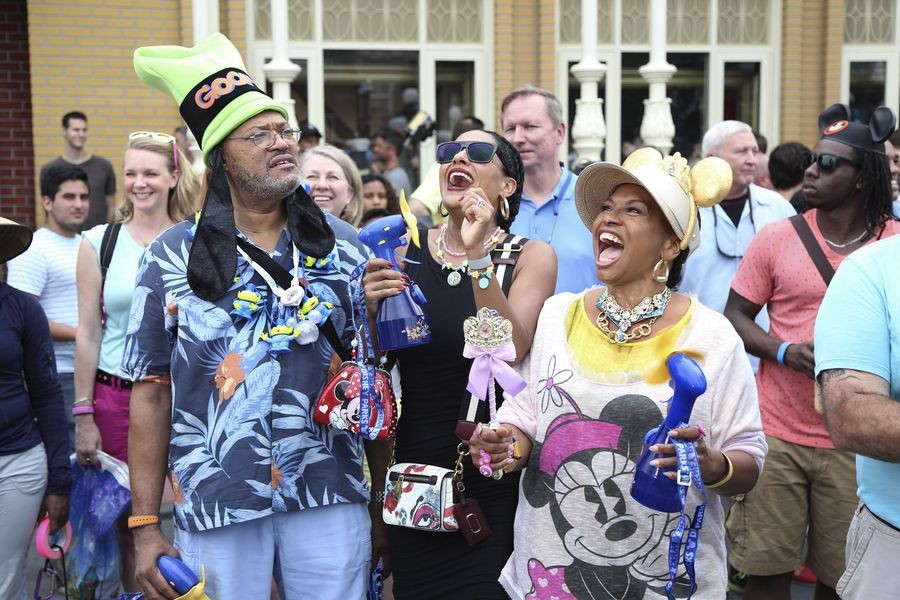 ABC
Dre nearly throws a fit when the Dean -- erm, Cody -- says that his time with them is over. Dre reiterates that he "bought" Cody, and Cody informs him that he "hired" him for his time for seven hours, and now he goes to be the best friend of the incoming Gonzales family. Dre tries to make the most of it, but his kids are shocked to be in "gen pop" and have to stand in line like everyone else. Dre has an outburst at how entitled they are acting and leaves, and, while he was nasty to them, they needed the reality check.
Leaving them in the line was about the best thing for them, as they actually speak to each other for once. Junior spies a young woman dressed as a Jedi, and the others encourage him to go talk to her. It doesn't go well, at least at first, but they learn to have fun together without all the perks thrown at them.
Bow catches up with Dre and tells him that she ended up having a great time with his parents, and he complains about how awful their kids are. They are also 100% #relationshipgoals right now.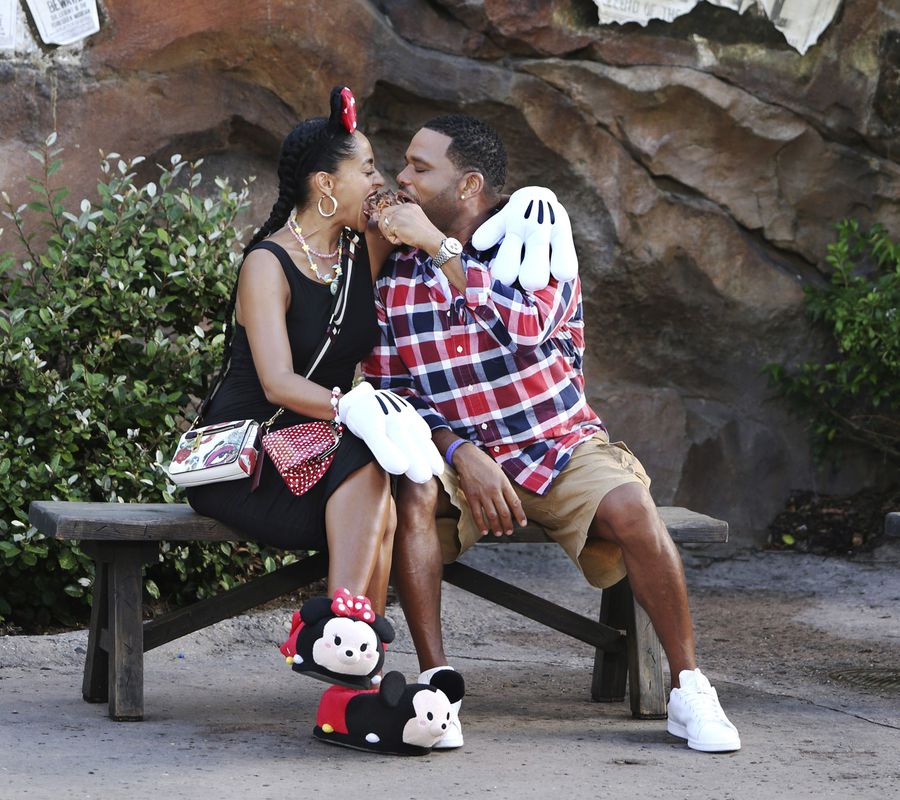 ABC
The Johnsons end the day like everyone should at Disney World -- with the fantastic fireworks display over Cinderella's Castle. Pops even has a softie moment when Dre (and I) was expecting something snarky to come from him AND IT DIDN'T. Dre lets him know that, despite the way he acted in this vacation, he still did appreciate everything his parents did for him growing up: he said a tuna sandwich would be really nice right about then.
What did you think, PopStars? Did Black-ish's season premiere entertain you? I, for one, can't wait to see how Bow's pregnancy impacts her day-to-day life as the season continues!