**Thanks to Marvel Press for sending me this prize pack and book and for providing one to our lovely readers, as well!**
We're back with another fantastic giveaway thanks to Marvel Press!
This time, we're getting a story about everyone's favorite arachnid: Black Widow! That's right, The Avengers' very own Natasha Romanoff is finally getting some of her own spotlight!
Not only will the winner of this giveaway snag the newest installment in Margaret Stohl's series, Black Widow: Red Vengeance, Marvel Press is also going to send them the first book in the series, Black Widow: Forever Red as well as a branded Black Widow bag and pin! That's a whole lot of swag for one giveaway.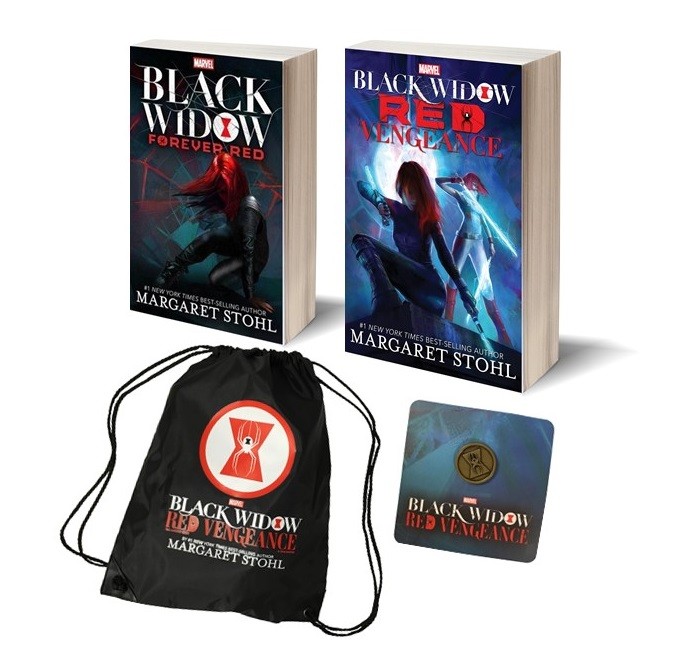 Marvel Press
If you're unfamiliar with the series, this quick snippet below is sure to pique your interest:
Emotions are dangerous, which is why the graduates of Moscow's famed spy school the Red Room are taught to keep their enemies close and their loved ones at a distance. Black Widow and Red Widow, also known as Natasha Romanoff and Ava Orlova, forgot that lesson once, and they won't forget it again.
But the Widows have inherited something else from their shared Moscow past: a relentless need for vengeance -- Ivan Somodorov is dead, but his network of terror remains.
While the Widows search South America in order to extinguish a smuggling operation with ties to their old nemesis, their own Red Room not only attempts to assassinate them both but also hacks their secure S.H.I.E.L.D. network. As a result, Ava and Natasha find themselves thrust into a trying mission of international intrigue that takes them throughout the world and back to New York City, where their friends Dante and Sana become unlikely targets as well.
Once again, nothing is as it seems, no one can be trusted, and no one is safe -- not unless the Widows can stop a conspiracy involving stolen nuclear warheads, mind-altering chemical weapons, and ultimately, betrayal by old friends and enemies alike.
You're salivating, aren't you?
Margaret Stohl is an incredible author, responsible for co-authoring the Beautiful Creature novels, which are incredible (despite what Hollywood did to the movie). She's also a contributor for Marvel Comics and has written and designed video games. Suffice it to say this is a woman who knows what she's doing.
All you need to do is share this story, tag @PopWrapped and include #RedVengeance. The winner of this giveaway will be announced on Friday, October 21.
May the best tweeter win!
***Giveaway open to US residents only.***